The latest Black Lives Matter movement has created a conversation. It's made individuals of all backgrounds reflect on the diversity of their workplace and entire industries are encouraging their communities to think about how they can influence positive change.
For the first time, recent surveys conducted by the Black Aesthetics Advisory Board (BAAB) highlight the specific areas that need most attention for progress, which are unique to aesthetics.1-3 Some of the notable results have been highlighted on the previous page4 and now it's up to every member of the aesthetic community to be a part of this conversation and work together to result in change. This, BAAB founders Dija Ayodele, Dr Ifeoma Ejikeme, Dr Tijion Esho and Dr Amiee Vyas say, will not just be beneficial for black patients and practitioners. They believe it will also benefit those of all backgrounds and will create more business for clinics and companies, as well as aiding the overall progress our ever-evolving field.
Dr Vyas explains, "The UK, especially places like London, has a very diverse population and our surveys highlight that the aesthetics field is leaving out a large section of our society, which is concerning." Dr Vyas continues, "Leaving out this part of the population is an issue because it means patients are not engaging with the field and practitioners don't feel welcomed. It's also a negative for our businesses – we could be expanding our services and tapping into this market if we were all catering to these patients appropriately."
The below advice from the BAAB founders explores how the aesthetic community can make small improvements to implement big changes, thus becoming more inclusive of people from all ethnicities.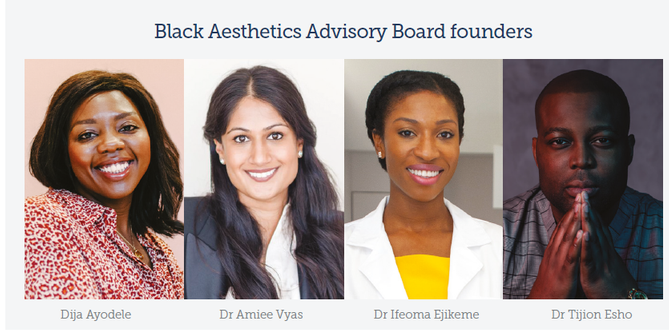 Improve education
The surveys highlight that although many practitioners want to improve their knowledge, there is a lack of training available to them when it comes to treating darker skin types.1 Ayodele says, "There is a real need for practitioners to undergo more training on how they can better serve the entire population. For example, there is a lack of understanding of how skin concerns present differently in black skin vs. white skin, or what problems skin-of-colour patients commonly face."
Dr Vyas adds that in her experience, often darker skin types are just briefly mentioned by training providers as a risk, without going into much detail. "I had to take it upon myself to do my own research with in-depth literature reviews so I could provide a better service for my patients with skin of colour – in the absence of formal education I really urge my colleagues to do the same. Since doing this, and by voicing my knowledge to my patient base, I now have 50% skin-of-colour patients and am a trainer for distributor AestheticSource, which offers skin-of-colour education as a priority," she says.
Although Dr Vyas has seen improvements in this area, she and the other BAAB founders believe more needs to be done. This, they say, is the responsibility of aesthetic companies, universities and training providers, as well as practitioners, who need to be active in voicing that they need this education.
Dr Ejikeme highlights, "If the aesthetic community has the knowledge, understanding, tools and know-how, then they are going to provide a good service to all their patients. And this is not just the right thing to do, but it can also be profitable for your clinic too."
Change marketing and branding approaches
Have you ever looked at how your clinic appears from the eyes of your patients? What do your website, social media channels and emails say about you and the services you offer? Does it look like you cater to skin-of-colour patients? It might be time for a change, the BAAB founders say.
"As a whole, black patients feel underrepresented,"1 says Ayodele, "So, marketing and branding for not only clinics but aesthetic products needs to be a lot more inclusive to patients of all skin types to show that there are treatments available to them. This is not just having a token black women image here and there, but companies should include a wide variety of skin tone imagery from the whitest of white to the darkest of dark."
Dr Ejikeme also believes that aesthetic product companies need to supply clinics with marketing materials that cover wider
ethnicities. She adds that the language used needs to be considered carefully. "Think about what keywords you use on your website; do you explicitly say how you can help different skin types and what treatments you have and explain how these can help?" she asks, adding, "If we are not making patients feel welcome via our marketing efforts, then the patient is going to feel that there isn't a treatment for them."
Ayodele provides an example of how a dermal filler procedure can be adapted to a black audience. "Traditionally, black women already have fuller lips and because it's often marketed to white women, they think that fillers are all just about making lips look big. However, what many black patients don't know is that fillers can also be used for definition or hydration, which does appeal to them," she says.
Conduct more research
According to the BAAB founders, there is a lack of clinical research conducted by aesthetic companies on how their products interact with skin of colour. This prevents a comprehensive understanding by practitioners on what treatments can benefit their patients and how to best use these treatments, they say. Dr Ejikeme explains, "When I look at technologies that have never been tested on black skin I am unable to explain to my patients the specific improvement or complications that can occur because the data has only been done on lighter skin types. The manufacturer of every aesthetic device should ask the question: what impact does this have on black skin and how effective is it?"
Ayodele says, "Some brands are doing extremely well in ensuring that their clinical and consumer trials are far reaching across all Fitzpatrick skin types, but others aren't. It is improving, but I think the lack of research is underpinned by the fact that there has always been the misconception that black people don't spend money on skincare or in the aesthetics arena, so companies are less likely to invest in research." She adds, "However, from my experience, the brands that invest in the skin-of-colour research and have the clinical trials and imagery to show have done fantastically well with black patients and there is absolutely a market there."
Dr Ejikeme adds, "Companies, black practitioners and those who are experienced in treating skin of colour need to partner together so practitioners can advise on how their devices and technologies can best be utilised for black patients." She explains that practitioners should also actively share their experiences treating black skin by showcasing their case studies in medical journals. Collectively, Dr Ejikeme says this will help to provide treatment protocols for darker skin, which will ensure patient safety, as well as enhance the popularity of treatments within this cohort.

"I was really shocked that 33% of our survey respondents had experienced racism by a colleague or supervisor specifically in aesthetics"
Employ a diverse team and showcase them
The majority of black patients think it's important to have black employees on teams and at senior leadership levels, as well as for brands to be more culturally aware.1 The consumer survey respondents also attached significance to their skincare professional being of the same or similar ethnic background as themselves.1
Ayodele says, "From a business point of view, of course it's important to have black employees on teams and at senior levels, but actually those that are employed often have a lack of visibility with aesthetics. As such, it's important that companies not only step up to hire more, but ensure there is a visibility of their black professionals in their teams." She explains that this is of benefit because it provides an increased ability for businesses to relate to their customers, emphasising, "This will start increasing the cultural awareness of our community and will naturally make it become more inclusive."
As well as employing a more diverse team, black employees need to feel respected in their workplace. Dr Ejikeme says, "I was really shocked that 33% of our survey respondents had experienced racism by a colleague or supervisor specifically in aesthetics – this is way too high. People reported specific circumstances which were very alarming to me. This hasn't been my personal experience, but black practitioners all come from various backgrounds so people within different groups may have really unique experiences."2
Dr Ejikeme explains that to tackle this concern in the workplace, businesses should have a zero tolerance policy on racism. "This may seem obvious, but for such a high amount of people to have experienced this shows that it needs to be explicitly discussed to all members of staff. I would also encourage diversity education as part of annual training, and for managers to take complaints about discrimination seriously, always following through with an investigation. Try to create a culture which will call out bullying of any kind and ensure appraisal, review and disciplinary roles in the organisation have black individuals as part of the panel."
Improve black representation for brands and events
With 84% of black practitioners stating they do not feel well represented at conferences and 70% saying they don't feel they have a fair shot at becoming a brand ambassador or KOL, it's clear there is room for improvement.2 Dr Ejikeme says, "I had 90 black aesthetic practitioners respond to my survey; I was not aware that there were this many in aesthetics because I just haven't seen them! Where are the black practitioners and why aren't we as visible?"
Dr Vyas adds that whilst she sees diversity in the speakers and KOLs in aesthetics, there is a lack of representation specifically from black practitioners. "If I was a black consumer and not a doctor and went to an aesthetic event I would probably think there's nothing out there for me in this field," she says. Dr Ejikeme adds, "You can't be what you don't see. If you don't see black faces you won't think that you can become a KOL."
Dr Esho also raises concerns in this area. "There are several talented black practitioners in this industry who would thrive within these positions and, if given the chance, those brands would gain an insight from them on how to approach and treat black customers within both marketing and training," he explains. Firstly, the BAAB founders say aesthetic product companies need to be more active in engaging with black practitioners. "Working with brands can be so important in people's careers and progression," Ayodele says, explaining,
"Brands need to look at how they can widen their teams. Are they approaching black practitioners to recognise their skills and qualifications, and put them on track to become KOLs or to take senior leadership roles?"
Dr Esho also emphasises, "This doesn't mean giving a position to someone just because they are black," he says, adding, "No one wants that, but when there are several talented black practitioners in the industry but many faculties and boards where black faces are absent, we really need to sit and discuss why." Conference organisers also need to do more to showcase the experiences of black practitioners and patients, which will not only make other black practitioners feel represented, but will help to educate practitioners in how to treat skin of colour, they say. "I hope that we not only start to see more black speakers, but that we start to include black patients in all agendas, especially the injectable agendas such as dermal fillers and threads. In my experience, these treatments are very relevant to skin-of-colour patients, but they just need a different approach. If we can achieve this then I think that would be extremely powerful for our field," Dr Ejikeme explains.
The BAAB is working closely with conferences like CCR and ACE to improve this, but all event organisers should make more of a conscious effort, they say. Alison Willis, director of CCR and Aesthetics Media, as part of Easyfairs, commented, "We want to ensure our conference delegates of all backgrounds feel they are included and well-represented when we welcome them to our events. We are active in looking at how we can progress by not only hosting black and skin-of-colour speakers, but also ensuring that the content talks about treating all skin types. We are also working closely with the Association of Event Organisers, which is the trade body representing companies that coordinate events, to improve diversity in the wider events industry across all sectors."
Dr Ejikeme says that non-black practitioners can also play a part in encouraging companies and event organisers to do more. She states, "I think they need to be a champion for change. Be conscious of the lack of black representation and if you're going to a conference and you see the entire faculty is Caucasian, ask where is the diversity?"
Put yourself out there
People of all skin types often find it hard to promote themselves in aesthetics. However, the BAAB founders believe that many black practitioners can be doing more to amplify their voice within the community. "Some black practitioners need to put themselves out there a little more. Many don't think they will be heard if they do, but there are ways to amplify your voice," Dr Ejikeme explains. "Firstly, be excellent in what you do and then contact people to collaborate with. You will be surprised by the response that you get and you will likely find that you get more positive responses than negative," she advises, adding, "Network with anybody and everybody of all ethnicities – find allies because they are everywhere, every shade and every age."
Ayodele emphasises that black practitioners do need to be a part of the change. "Have you put yourself forward to be a brand ambassador or KOL? Has a company actually said no you can't? I think black practitioners need to meet half way. While magazines, conference providers and brands actively need to reach out more and not just feature the few people that they have good relationships with, black practitioners also need to shout that they are here and ready to be heard."
Dr Vyas adds, "Often people think their voice isn't loud enough, that they won't get accepted or won't progress anywhere, so sometimes people don't try. I always say that if you don't try, you don't get. So, promote yourself! Put your experiences especially of treating darker skin out there regardless of what skin colour you have and claim your seat at the table. The first thing is not to feel that your voice isn't important because, right now, the world is listening and it's a great thing."
The future of diversity in aesthetics
The BAAB board members are all extremely positive and excited by the future of aesthetics and how the industry will evolve to become more accommodating to people of all ethnicities and backgrounds.
Ayodele says, "I hope that the conversations continue. I really think that the lid has been taken off and we need to continue this conversation and progress. I feel very confident that this engagement and future change will be a benefit to the entire aesthetic industry, not just the practitioners but also to patients, who are at the heart of everything we do."
The BAAB members hope to create guidelines for brands to follow to help make their businesses more inclusive, and are currently available to mentor and consult companies and practitioners who would like to learn more about what changes they can make to cater to a more diverse client base.
Dr Vyas says she is also working on producing training events, and would like to thank all survey respondents, especially those who shared their very personal experiences, which have helped identify the specific learning needs of individuals within the aesthetics field.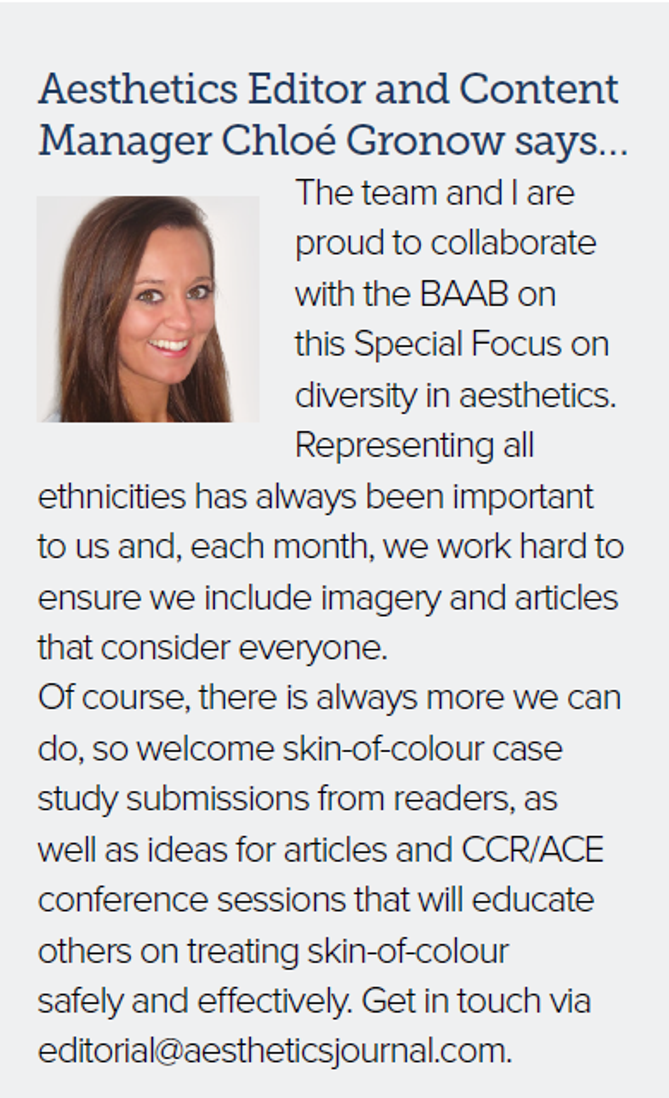 Dr Esho adds, "I think the key message here is that there is a problem. With time and effort of everyone involved we can make it better, but to make it better it has to really matter to everyone involved within this industry." Dr Ejikeme concludes, "All individuals within the aesthetic field can help in their own little way and if everyone comes together then I believe that the landscape will change very quickly."