Consultant oncologist Dr Fiona McCarthy details how radiotherapy affects the skin and considerations for treatment
Radiotherapy (RT) is a lynchpin of oncological treatment worldwide and can be used alone or in combination with chemotherapy and surgery to maximise tumour control, reduce tumour burden and improve quality of life. Since its advent over a century ago, considerable advances have been made to improve the efficacy of radiotherapy, as well as minimising its toxicities.
The most common manifestations of radiation toxicity are acute and chronic skin reactions, commonly described as 'radiation dermatitis'. Despite the advent of intensity-modulated radiotherapy (IMRT) and other new technologies which reduce the dose intensity of radiotherapy on the skin, radiation dermatitis remains the most common side effect of RT in both the acute and chronic setting.1,2
These reactions can cause serious functional impairment as well as cosmetic disfigurement, which may result in a significant impact on the patient and their quality of life, both physically and psychologically. An increasing incidence of cancer in the general population, as well as improved survival rates,3 makes it highly probable that all aesthetic practitioners will, at some point, manage patients who have undergone RT, and indeed, may be asked to help improve the aesthetic appearance of cutaneous toxicities. Therefore, it is essential that aesthetic practitioners have an understanding of the effects of radiotherapy on the skin, what complications are likely to arise, and how best to manage them.
Factors affecting skin reactions to radiotherapy
The dermatological side effects experienced by patients during or after a course of RT are wide-ranging and dependent on a multitude of variables. Site of disease, radiation dose, technique, and frequency of treatment can impact on the potential for skin toxicities with patients treated with RT.2 Breast, lung, and head and neck cancers are more likely to develop cutaneous complications due to the higher radiation dose administered to the dermal layers.1 Other risk factors for developing skin toxicity include obesity, advanced age, female gender, chronic sun exposure, diabetes and smoking.1,4-7 Concurrent diagnoses of connective tissue diseases such as systemic lupus erythematosus (SLE) and scleroderma, also increases the risk of developing cutaneous side effects.8
Cutaneous reactions to RT can be categorised into acute or chronic reactions, depending on timing of onset of clinical signs.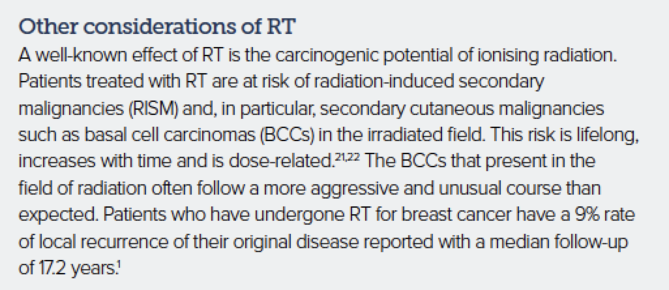 Acute RT reaction
Acute skin toxicity usually develops within three months of commencing RT. The acute reaction ranges from a transient erythema (which is self-limiting) to a more severe dry desquamation, which is characterised by hyperpigmented, dry, flaky skin. The most severe acute reaction is moist desquamation, where the skin barrier dysfunction results in a leakage of serous fluid and associated ulceration and necrosis.2 Due to the impaired epidermal barrier in moist desquamation, there is a significant risk of superadded infection so the affected area should be protected from extremes of temperature as well as sunlight, allergens and other potential sources of irritation to avoid further tissue injury.1 Acute radiotherapy-related skin reactions should only ever be managed by a consultant oncologist in the hospital setting with specialist dermatology input if required. As such, any patient requesting aesthetic input or advice with any of the clinical signs described above within three months of radiotherapy should be referred to their treating oncologist immediately for review.
Chronic RT reaction
Chronic radiation-induced skin reactions (RISRs) can occur as early as three months following completion of treatment to many years later.9,10 Chronic RISRs may have a significant impact on patients' quality of life due to the often irreversible nature of the damage. Chronic RISRs may occur in patients who experienced only minimal acute radiation dermatitis and therefore can develop on skin that appears normal. This significant cosmetic disfigurement caused by chronic RISRs may lead to patients' seeking aesthetic treatments to improve the appearance of the skin.9,10
Clinical manifestations of chronic RISRs
Chronic RISRs are characterised by dermal fibrosis or atrophy with associated alterations in skin pigment.5,11 Post-inflammatory hyperpigmentation is particularly common and this may either resolve very slowly or worsen with time depending on the Fitzpatrick skin type of the patient and the severity of the skin reaction.1 Skin over the affected area may become xerotic and hyperkeratotic. Significant cutaneous toxicity is characterised by persistent dyspigmentation, dermal atrophy, and telangiectasia with the potential for permanent loss of nails and skin as well as absence of hair follicles resulting in alopecia.1,12 Radiation-induced telangiectasia are particularly common in chronic RISRs and are thought to occur in up to 13% of patients.2 Telangiectasia are vascular lesions which result from the dilatation of poorly supported vasculature in the skin and, due to their appearance, are associated with a poor body image following RT.13
I would urge great caution in treating areas of chronic RISRS, or indeed any area previously treated with radiotherapy
Radiation-induced fibrosis
Radiation-induced fibrosis (RIF) of the skin and subcutaneous tissues is often considered the most severe of all chronic RISRs and the most difficult to treat. RIF may potentially develop at any RT treatment site, however patients who have undergone RT for breast cancer are most commonly affected. This is because the site of RT treatment has often also previously undergone surgical intervention creating distortion of the skin architecture and making it more susceptible to RIF.1 However, in general, the risk for developing RIF is low following the introduction of skin sparing radiotherapy techniques in breast cancer.
Signs and symptoms of RIF include skin retraction, pain, necrosis and ulceration.14 Chest wall RIF may result in restricted arm and neck movement, lymphoedema, and brachial or cervical plexopathy.15 RIF is mediated by inflammation which occurs immediately after RT and may continue for months and years. The pro-inflammatory cytokines tumour necrosis factor alpha (TNF-α), Interleukin 6 (IL-6) and IL-1 promote this response with concurrent fibroblast activity, enhanced by transforming growth factor beta (TGF-β) and platelet-derived growth factor (PDGF).9,16-18 These changes, in addition to radiation-induced alterations of the vascular system, contribute significantly to development of late cutaneous toxicities related to RT.19
Pathophysiology of chronic RISRs
Pro-inflammatory and pro-fibrotic cytokines are overexpressed in chronic RISR tissue. TNF-α, TGF-β, IL-6 and IL-1 as well as (PDGF) are present immediately after RT and may persist for months to years.1
TNF-α, IL-6, and IL-1 are responsible for persistent inflammation, whereas TGF-β and PDGF promote fibrosis by activating fibroblasts and are involved in synthesis of extracellular matrix proteins and matrix metalloproteinases.1,9,17,20 The combination of impaired vascular perfusion to the skin due to RT, along with activated fibroblasts and pro-inflammatory cytokines, can exacerbate the fibrotic process.19
Management of chronic RISRs
Recommendations available on management of chronic RISRs suggest both topical and oral treatments.4,19 A number of small case studies have suggested that using the xanthine derivative Pentoxifylline in combination with vitamin E for more than three years may help with the symptoms experienced with RIF. However, controversy remains regarding both the optimal treatment dose and duration of Pentoxifylline, as well as the importance of the addition of vitamin E.23,24 From my experience, the management of telangiectasia and dyspigmentation are the clinical signs that are most likely to present to aesthetic practitioners.
Laser
Laser treatment of vascular lesions including telangiectasia are well established. The presence of telangiectasia may be psychologically distressing for the patient and pose as a constant reminder of their cancer. Pulsed dye laser (PDL) has been shown to be superior in terms of vessel clearance and patient satisfaction to intense pulsed light (IPL) for post-radiotherapy-induced telangiectasia, as demonstrated in a randomised split-lesion trial of 40 patients by Nymann et al.25
More recently, a small cohort of eight breast cancer patients with radiation-induced telangiectasia were treated with PDL at Memorial Sloan Kettering Cancer Centre (MSKCC) in New York.26 Outcomes were measured based on patients' wellbeing and satisfaction with results, with all patients reporting a significant clinical improvement from baseline after an average of four sessions. Although PDL has demonstrated a clinical improvement in the above studies, larger randomised control trials are required to better define the risk of using PDL on irradiated skin and the long-term effects of the laser treatment on vessel recurrence.
The most common manifestations of radiation toxicity are acute and chronic skin reactions
A further case report involving three patients described the use of an alexandrite laser in the treatment of radiation-induced hyperpigmentation. These patients had previously been treated with RT for BCCs more than 15 years previously. A good aesthetic result was reported by both patients and doctors after four to five weeks of treatment.27
Advances in laser therapy have led to the use of fractional laser treatment (FLT) to treat fibrosis associated with hypertrophic scars and morphea, leading to tissue repair and, ultimately, scar remodelling. There is a hypothesis that FLT can normalise the fibrotic process and induce normal scar remodelling in patients affected by chronic radiation injury. Understanding and correcting this underlying fibrotic process can help restore normal skin functions in patients affected with chronic radiation dermatitis (RD) and other debilitating fibrotic diseases in dermatology, such as scleroderma, morphea, or nephrogenic systemic fibrosis.28 A pilot study on the effect of laser on reversing chronic radiation injury is currently taking place on 22 patients with significant RIF to test this hypothesis. Each patient will receive FLT using the Lumenis Ultrapulse Carbon Dioxide (CO2) laser as well as a control no-treatment area randomised to site. Patient age, type of cancer, method and dosage of radiation, latency between radiation treatment and start of study as well as characteristics of skin changes will be recorded. Assessments will be conducted immediately before and after each treatment and at regular intervals up to 12 months after the last treatment.28
Discussions for patient management
Patients may present to aesthetic practitioners for assistance with scarring, dyspigmentation and telangiectasia following RT. From a unique position as a consultant oncologist as well as an aesthetic practitioner, I would urge great caution in treating areas of chronic RISRS, or indeed any area previously treated with radiotherapy. Secondary skin malignancies are relatively common in the site of previous radiotherapy, even many years later.29 For patients with breast cancer, recurrence of the tumour can occur on the chest wall in sites of previous radiotherapy or surgical scars. Distorting the architecture of the skin purely for a cosmetic result may have an impact on diagnosing a recurrent or de novo malignancy in this area. The small cohort of studies described above focus on successful cosmetic results with intervention using laser therapy but do not consider the longer-term oncological complications that may occur. Prior to advising the widespread use of laser/light therapy to treat chronic RISRs, good quality randomised clinical trials are required.
In short, in the best interest of the long-term health of the patient, I strongly advocate avoiding cosmetic procedures or intervention in areas of RISRs or RIF.