Consultant plastic surgeon Mr Ali Juma explores the use of stem cells for treating hair loss in men and women
Stem cells are more frequently being discussed for uses in regenerative medicine and there are new developments in their use for hair restoration. This article will explore a treatment option that is relativity new to the UK to help patients with male patterned baldness (MPB) and female patterned hair loss (FPHL), explaining its mechanism of action and how to obtain successful results.
Stem cells
Stem cells originate from different sources, which include embryonic, pluripotent, adipose tissue (fat) and muscles.1 Mesenchymal stem cells, particularly those of adipose tissue origin (adipose-derived mesenchymal stromal/stem cells or ASCs) appear to be an ideal and more practical source to use in regenerative medicine. This is because adult human adipose tissue is in abundance in males and females.1 This abundance means ASCs are the most common source with minimal donor site morbidity, limited discomfort and outpatient surgery. Stem cells are also multipotent and have a good potential for regeneration of tissues.2
Adipose tissue is composed of >90% fat globules by volume and stromal vascular fraction (SVF), which is a component of the lipoaspirate obtained from liposuction of excess adipose tissue and contains a large number of regenerative cells. SVF includes preadipocytes, fibroblasts, vascular smooth muscles, endothelial cells, monocytes, lymphocytes, macrophages and stem cells.3
The donor site of the ASCs influences their behaviour; for example, the ASCs derived from the superficial abdominal wall are more resistant to apoptosis than those derived from the inner arm, medial thigh, trochanteric area and deep abdomen.4 The technique used to harvest ASCs influences the way they behave due to the variation in the cell subtypes which accompany them. For example, the use of lower pressure fat aspiration will reduce damage to fat cells.4
Stem cell treatment for genetic early baldness
Assessment of all patients with hair loss is paramount prior to commencing any form of treatment. The assessment considerations should include, but are not limited to, diet, anaemia, stress, hormonal imbalance, post-cancer treatments, trauma and burns, as these can contribute to the cause of the hair loss.5
The degree of hair loss in males can be classified using the Norwood Hamilton classification and in females the classification is based on the Savin scale.6
The first line treatment of MPB and FPHL is medical, which includes topical minoxidil, and for males only, finasteride.5,6 Low-level laser treatment can also be utilised,7 while micronutrients can be considered. Platelet-rich plasma (PRP) is another method for treating genetic alopecia, although more scientific evidence is needed to support its efficacy.8
It is generally accepted that the gold standard for treating MPB and FPHL alopecia is follicular unit transplantation. It is not, however, offered in either male or female patients with early alopecia consisting of diffuse thinning, poor donor availability, and scarring alopecia.9 In addition, some patients may not wish to continue with medical treatment even after a hair transplant, which I believe leaves a gap for treatment using adipose tissue that is enriched with regenerative stem cells.9
Fat loss correlates to hair loss as ASCs secrete various growth factors, which can promote hair growth. A 2016 study that examined the effects of ASCs conditioned medium on 11 men and 11 women with alopecia found that stem cell conditioned medium appears highly effective for alopecia and that the treatment represents a new therapy for hair regeneration after hair numbers were significantly increased.10
ASCs conditioned medium is rich in growth factors such as vascular endothelial growth factor, which can control hair growth and follicle size through angiogenesis.10 Other factors like hepatocytes, platelet-derived growth factors, as well as the maintenance and induction of the anagen and the hair follicle growth phase, are also present and influence cyclic growth of the hair follicle.11,12,13
Injecting autologous fat subcutaneously, which is enriched with regenerative stem cells in both males and females may represent a promising alternative approach to treating this condition.9 I believe for best results it should be considered as an option for hair regeneration in patients with early MPB and FPHL – Norwood Hamilton type I-III A male baldness, and Savin type I-II (sub-classification 1-4) of female baldness.15
Treatment pathway
The single treatment involves liposuction and the transfer of autologous fat that has been enriched with adipose-derived regenerative cells (SVF stem cells). To achieve this, two different systems must be used to purify fat, remove contaminates and to process the SVF stem cells.9 I use the Kerastem system for processing the SVF stem cells as it appears to be the only system available in the UK to provide high quality cells. The protocol for Kerastem uses the Puregraft system for obtaining a purified autologous fat graft.
The treatment requires appropriate patient selection, following a clinical history and examination, which includes assessment of donor sites for fat. The fat donor sites commonly include the abdomen and flanks. Treatment of alopecia with ASCs has contraindications including local skin disease, inflammation, infection, allergic conditions, autoimmune disease, pregnancy, cancer and current anticoagulant therapy.10
When the clinical presentation and the options of treatment available match the patient's request, a full discussion of the benefits, scars, including their extent and location, potential risks, in addition to the surgical and medical complications, are discussed.
Upon agreement with the patient and allowing for the appropriate two-week cooling-off period, the patient is scheduled for treatment.
The patient is administered an intravenous dose of antibiotics one hour before surgery. The treatment pathway includes liposuction, which can be performed under general anaesthetic or twilight anaesthesia. Tumescent local anaesthetic is infused into the donor sites for fat, while liposuction is performed using handheld 2.4mm cannulas; however, a micro-air mechanically-assisted system can also be used to aspirate the fat.9 The procedure uses enzymatic treatment of the fat to release the regenerative stem cells, which according to the literature makes it more effective.9 All patients are covered prophylactically with pneumatic compression mechanical boots and compression stockings for deep vein thrombosis prophylaxis. The liposuction donor sites are dressed and a liposuction compression garment is applied for a period of four to six weeks. The amount of fat aspirated is 250cc. The first 50ccs is processed through the Puregraft system to obtain a purified autologous fat graft. The remaining 200cc is processed through a the Kerastem system to obtain a 5cc cell suspension of regenerative stem cells. This latter process takes 75-90 minutes.9 The SVF yield per 1ml of fat input is between 5.48 x 105 - 7.31 x 105 of stem cells and progenitor cells.14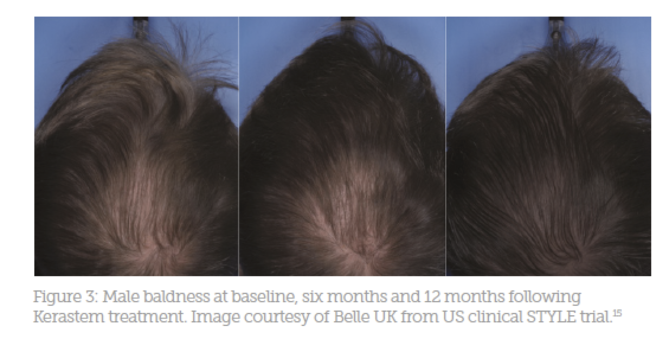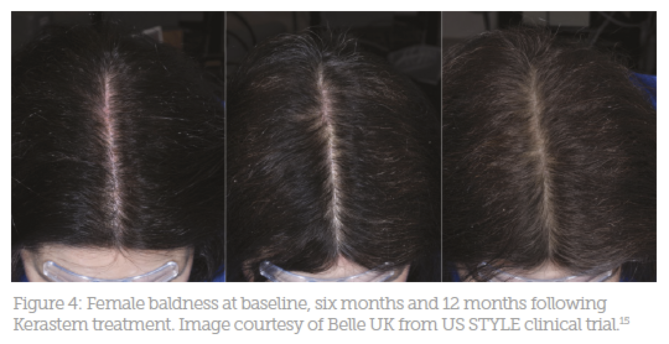 A scalp ring with 1% Lidocaine and 1:200,000 adrenaline is administered first. The area to be treated is planned and a grid of 1cm squares is mapped. 0.1ml of purified fat is injected into the subcutaneous fatty layer of the scalp in each 1cm square of the grid with a 1.2mm cannula. Each cm2 of treatment area is then injected with 500,000 stem cells. These cells are injected into the dermis on withdrawal of the needle.15
Patients are discharged one to two hours following completion of the treatment.9 The treatment process takes two and half hours from start to end. The treatment has minimal risks and complications, including the risks and potential complications associated with liposuction.16 The recovery period is usually two to three weeks following the treatment. It is a one-off treatment, and the results may continue to improve even 12 months later. Another benefit of this treatment is contouring of the fat donor sites.
Conclusion
Genetic early alopecia treatment commences after a thorough clinical assessment and a first-line conservative medical approach. Hair transplant is still the gold standard for treatment; however, treatment with adipose tissue derived stem cells, which is relatively new to our shores in the UK, could be considered as an alternative. Early research shows it to be an efficient one-off method in the majority of patients in treating Norwood Hamilton type I-III A male baldness, and female hair loss Savin type I (sub-classification 1-4), and II (sub-classification 1-2). More research will follow in due course from continued research in the US15 and through continued data collection and effective research in the UK.