See what award-winning learning looks like at the long-awaited Aesthetics Conference & Exhibition on March 1 and 2.
If, like thousands of your peers, you take education and learning seriously, then there's a good chance you're reading the Aesthetics journal whilst exploring the Aesthetics Conference and Exhibition (ACE) in London! This year's event is more comprehensive than ever, with the introduction of a whole new clinical agenda, expert speakers never before seen at ACE and more exhibition space for eager delegates to explore.
Last year ACE was recognised as one of the best free to attend conferences in the whole of the UK and won silver at the Conference Awards 2018. So, what does award-winning learning look like at ACE?
First-class clinical education
See live treatment demonstrations, discover new techniques and protocols and enhance your learning on the science behind the most effective modalities at the Expert Clinic, Masterclass and Symposium agendas. All from the industry's most reputable and experienced speakers!
Injectable innovations
Injectables are among the most popular non-surgical procedures in the aesthetics field, but there are hundreds of products to choose from, and even more techniques for successful outcomes. Speaking on the latest injectable procedures and providing advice on treatments such as dermal fillers, botulinum toxin and platelet-rich plasma will be Dr Raul Cetto, Dr Priyanka Chadha, Dr Benji Dhillon, Dr Tahera Bhojani-Lynch, Mr Ayad Harb, Dr Syed Haq, Dr Max Malik, Dr Beatriz Molina, Dr Gabriel Siquier Dameto, Dr Lee Walker, injectable sales manager Frank Ward and Dr Lara Watson.
Skin science
Of course, the importance of skin quality and health is constantly highlighted in this sector. From skin rejuvenation and scar revision to at-home cosmeceuticals, these presenters will cover the lot! You will discover the latest advice from aesthetic trainer Luciano De Min, Dr Xavier Goodarzian, Dr Mayoni Gooneratne, Dr Uliana Gout, aesthetic distributor David Gower, Mr Dalvi Humzah, Dr Beatriz Molina, Dr David Rouse and Dr Stefanie Williams.
Device developments
Machines and devices are technologies that can not only provide outstanding results for patients, but also provide lucrative business success. A huge range of devices are available to learn about at ACE, which treat skin, fat and feminine health concerns, among many other indications. The innovative discussions will be hosted by Dr Alexander Bader, Dr Alicia Baptista, Dr Ian Hallam, Dr David Jack, Dr Sabika Karim, Dr Alex Karkhi, Dr Shirin Lakhani, medical aesthetician Renée Lapino, Dr Joanna Lovatt, Dr Sach Mohan, Dr Beatriz Molina, LED specialist Dale Needham, Dr Simon Ravichandran, aesthetic distributor Ben Sharples, and Dr Claudio Urbani. Other treatments and advancements to help you develop your product offering will also be discussed by nurse prescriber Sandy Green and Dr Matthew Capehorn.
Business building advice
Of course, boosting your clinical skills and knowledge isn't the only thing that will help you gain and retain patients to further progress your aesthetic career. That's why the business topics are so important! How can you increase your turnover? Gain effective press coverage? Set achievable KPIs? Or keep you employees happy? The most effective practical tips to help grow your practice will be revealed by industry leaders on the Business Track agenda. Providing their best business tips and industry updates will be lawyer Rohana Abeywardana, business coach and author Alan Adams, aesthetician and directory website founder Dija Ayodele, travel law specialist Sarah Barnes, aesthetic nurse and clinic owner Cheryl Barton, digital marketer Danny Bermant, plastic surgeon and social media guru Mr Olivier Branford, VAT and TAX consultant Veronica Donnelly, digital marketing consultant Adam Hampson, beauty journalist and author Alice Hart-Davis, sales leader and marketer Jean Johnston, aesthetician and marketer Nikki Jones, PR consultant Julia Kendrick, clinic software specialist Mark Lainchbury, aesthetic practitioner and clinic owner Dr Victoria Manning, aesthetic practitioner and clinic owner Dr Rita Rakus, surgeon and clinic owner Mr Adrian Richards, chair of the JCCP Professor David Sines and marketer and aesthetic practitioner Dr Harry Singh.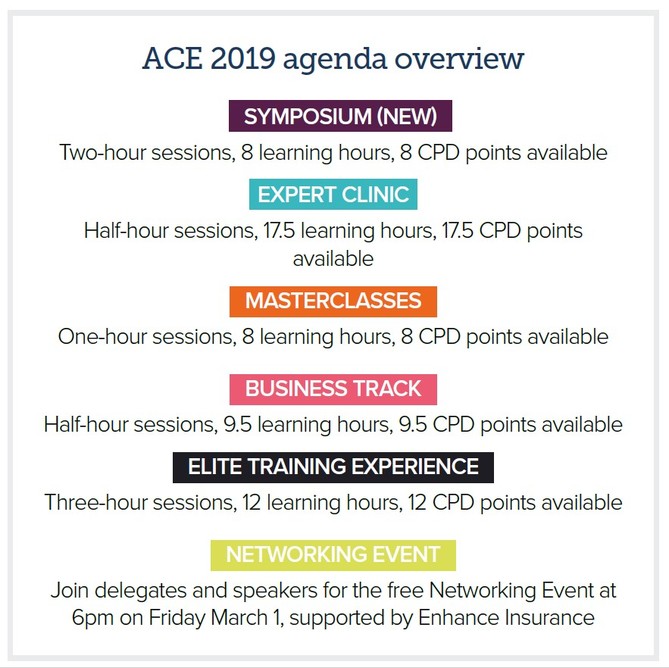 An Elite Training Experience
Enhance your consultation skills, improve your injection techniques, expand your anatomy knowledge and increase your understanding of complication management with guidance and demonstrations from expert training providers in medical aesthetics. Attend the comprehensive Elite Training Experience agenda with half-day sessions from Drs Emma and Simon Ravichandran from Advanced Training Academy, Mr Dalvi Humzah, nurse prescriber Anna Baker and Dr Rajan Sharma from Dalvi Humzah Aesthetic Training and Professor Bob Khanna from Dr Bob Khanna Training Institute. Dr Beatriz Molina from the International Association for Prevention of Complications in Aesthetic Medicine (IAPCAM) will also host a complications workshop, which will also feature nurse prescriber Sharon Bennett and Dr Sophie Shotter, as well as Mr Jeff Downie. For only £195 +VAT you can learn from the most experienced internationally-renowned speakers from the UK and gain 10% off future training with your chosen Elite Trainer!
A buzzing Exhibition
It's where connections are made, the latest innovations are showcased, live demonstrations are performed and lifelong friends and colleagues share experiences. Set across an impressive 2,500m2 space, the Exhibition Floor really is the beating heart of ACE. The learning opportunities here are endless; discover the latest innovations and product launches from 80+ aesthetic companies and meet valuable new contacts to further develop your business. You can even take advantage of exclusive show offers and discounts, with some companies advertising hundreds of pounds off their products and services!
Join the aesthetics community
It's not too late to join hundreds of your peers for award-winning learning at ACE 2019. Simply visit the Business Design Centre in Islington, London and register for free at the registration desk. For those already joining us, we welcome you to ACE 2019 and encourage you to make the most out of the endless free opportunities!