A real opportunity to grow your business during this unprecedented time
Thermage®, one of the most popular non-surgical skin tightening treatments worldwide1
Using monopolar radiofrequency technology, Thermage FLX is a well tolerated,2 innovative and non-invasive skin tightening procedure which can be used on most areas of the face and body, including the eyelids. With more than 50 clinical studies* attesting to its efficacy, Thermage pioneered the use of radio frequency** in skin tightening and as such set the standard for this effective versatile treatment.
Thermage benefits from being part of US-based company Solta Medical®, pioneers and global leaders in the field of non-invasive skin tightening.1 Since 2002, Solta Medical's continued investment has resulted in impressive technological improvements, delivering enhanced patient and practitioner satisfaction both in terms of outcomes3 and comfort.4 Thermage FLX, a real opportunity to stand out from the competition during this unprecedented time.
With more than 2.5 million treatments*** performed worldwide, Thermage has a very good reputation borne out by the 78% of patients who said it was worth it,5 and a very high level of patient satisfaction, with 94% of satisfied patients.6 One of the main advantages is that Thermage FLX requires only one session to achieve results. The session takes between 30 to 90 minutes, depending on the area treated. The Total Tip 4.0cm2 tip reduces the session time by 25%**** and as such increases the potential profitability of each treatment. In addition, Thermage FLX's sheer versatility allows clinics to maximise revenue opportunities with each patient by offering solutions for areas of the body, face and eyelids. With a single handpiece, it is now possible to treat different areas in even less time****. Indeed, Thermage FLX is one of the only treatments which can be used on the periorbital and orbital areas – giving great results3 with patients with droopy eyelids.
Besides, with its large touchscreen with a userfriendly interface, making the system easier to navigate, Thermage FLX is an easy-to-use device which can also be used by healthcare team members increasing revenue opportunities for your business. Post-treatment monitoring is limited with minimal side effects7 – a critical advantage for both clinician and patient alike.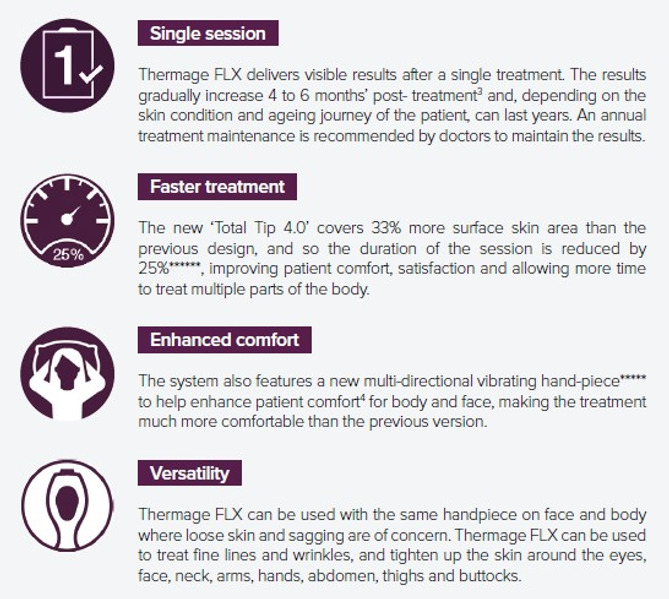 *Studies available in the clinical evaluation report (CER), ** The first version of Thermage was launched in 2002, ***Based on sales data,**** All comparisons are made with Thermage CPT and its components.***** The vibrating function is not available when using the Eye Tip 0.25 cm2.******R&D Report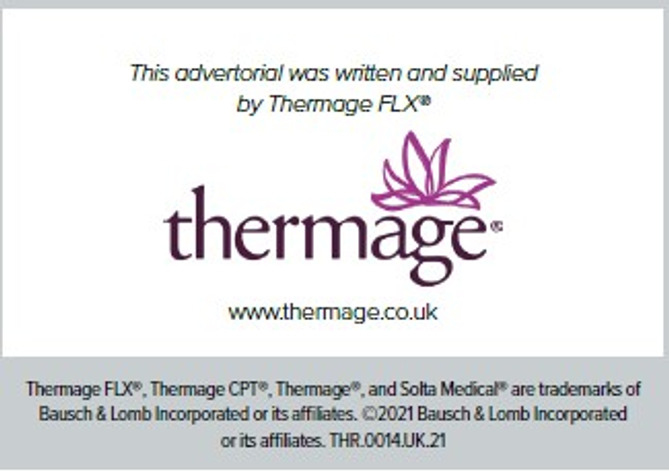 REFERENCES
1 Medical Insight report- Energy-Based Body Shaping & Skin Tightening – August 2020
2 R. Fitzpatrick et al. Multicenter study of non-invasive radiofrequency for periorbital tissue tightening. Lasers Surg Med. 2003;33(4):232-42.
3 M. Fritz and al. Radiofrequency treatment for middle and lower face. Arch Facial Plast Surg. Nov-Dec 2004;6(6):370-3
4 Realself report - January 12, 2021 – Thermage rating
5 E. Finzi, A. Spangler. Multipass vector (mpave) technique with nonablative radiofrequency to treat facial and neck laxity. rmatol Surg. 2005 Aug;31(8 Pt 1):916-22.
6 R&D Report
7 Solta Medical, 2009. Report on Gazelle Clinical Study 09-100-GA-T 'Validation of the Thermage 3.0cm2 STC and DC Frame Tips, Comfort Software and Vibration Handpiece on the Face and Thighs' (#09-019ER). Bothell
8 J.S Dover, et al. Results of a survey of 5,700 patient monopolar radiofrequency facial skin tightening treatments: Assessment of a low-energy multi-pass technique leading to a clinical end point algorithm. Dermatol Surg 2007; Aug;33(8):900-7.