Discover the ultimate 3D facial profiling technique with Restylane Lyft, Volyme and Defyne
When it comes to creating a holistic individualised facial profile, the timeless mantra of 'use the right tool, for the right job, in the right way' comes to mind. The pioneering Restylane brand by Galderma represents the gold-standard for dermal fillers in terms of clinical efficacy, practitioner trust and patient satisfaction. Within this diverse portfolio there are targeted products which lift, define and volumise the face, for a natural-looking, yet beautifully impactful 3D facial profile – with the cheeks, nose and chin acting as critical anchor points to the overall facial outline and ensure patients can own every angle.
In this crowded, competitive industry, aesthetic practitioners can trust the unrivalled heritage and clinical backing of Restylane, which has grown and evolved over the last 25 years to become a globally recognised brand, with more than 50 million treatments now delivered worldwide.1
Backed by unrivalled technology
Restylane is the only dermal filler portfolio supported by two complementary hyaluronic acid technologies: NASHA (non-animal stabilised HA) and OBT (Optimal Balance Technology).
The NASHA range (encompassing the Restylane, Restylane Lyft and SkinBoosters) is designed for lifting and precision, with a firmer gel for targeted product integration which utilises the natural entanglement of the HA strands, hence less than 1% cross-linker is needed. NASHA is the closest to the natural composition of HA than any other filler.
The OBT range (comprising Restylane Kysse, Volyme, Defyne and Refyne) is designed for contouring and expression, with a more distributed product integration into the skin, and a softer gel texture for pronounced lifting capacity and movement.
These pioneering Restylane HA-based gel technologies have been developed from Galderma's understanding of the natural role of HA within the body. Each Restylane product can be defined by various physical properties that determine its clinical applications and expected aesthetic results. All Restylane products contain non-animal stabilised hyaluronic acid, alongside Lidocaine hydrochloride 3mg/ml for effective pain relief and a comfortable injection experience.
By creating an integrated approach which leverages the unique benefits of both these HA technologies, Restylane's 3D lift methodology delivers results which provide long-lasting support and definition to key facial structures, alongside preservation of movement and flexibility for a natural-looking result.

Empowering patients to #owneveryangle
Patients often report that they only like photos being taken from a particular side or angle, due to embarrassment or concern about certain facial imbalances – such as receding chins, bumpy nose bridges or flat cheeks. Rather than chasing a point-by-point improvement in facial features, the Restylane 3D profile method looks at the holistic balance and characteristics of the entire face.
By using a targeted approach with these specially designed 'tools' from the Restylane portfolio, practitioners can confidently address these concerns in a universal approach.
Patient satisfaction, DELIVERED
The long-term quality of results and positive patient feedback with these three treatment products have been well-established by Galderma's satisfaction research
Dare to Defyne – 100% of injectors said Restylane Defyne improved patients chin projection at 12 weeks, 96% still agreed at 1 year
Stay true to their Volyme – 98% of patients were pleased with results at 18 months, offering a natural and expressive contour that 100% of respondents would recommend and have again
Provide the precise Lyft – 96% of patients felt their treatment met or exceeded their expectations, with 99% saying they would recommend to a friend and 96% saying they would do the treatment again
Introducing the 3D facial profiling heroes
The Restylane 3D Profiling technique uses three specific products from the range to create long-lasting support, definition and shaping, enabling patients to achieve a stronger facial profile whilst retaining their individual character. As the most diverse filler portfolio on the market, the individual products across both the NASHA and OBT technologies allow practitioners unprecedented control and artistry to enhance and perfect various elements of the facial structure.
The 3D profile technique utilises:
Restylane Lyft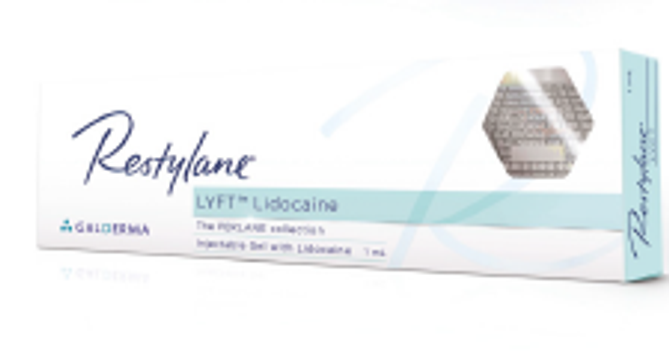 Restylane Lyft is part of the NASHA technology range and is the firmest gel in the portfolio – designed to deliver projection and structure for a pronounced effect. Lyft is suited for lifting the cheeks, enhancing the jawline and chin, or delivering non-surgical rhinoplasties and is proven to last up to 24 months with just one treatment. This hero precision product is supported by extensive clinical evidence and long-term treatment satisfaction, and importantly is intended to provide lift without volumising, thanks to the high G' prime and controlled particle size.2,3,4,5,6
Restylane Volyme
Restylane Volyme creates volume and shape to the face and is a soft, flexible gel from the OBT™ technology range, which are designed to distribute naturally within the tissue post-injection and follow the animation of the face for natural expressions. Volyme is recommended for treatment of the cheeks, temples and chin. Restylane Volyme lasts up to 18 months, and the addition of Lidocaine provides a pain-relieving effect during treatment.7,8,9,10,11
Restylane Defyne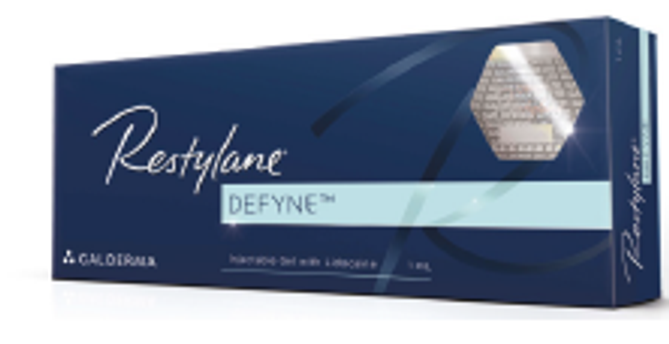 Restylane Defyne shapes facial contours and lifts to create definition. Another targeted treatment within the OBT technology range, it is recommended for redefining the shape of the cheeks, chin and jaw and lasts up to one year, again, with the pain-relieving benefits of lidocaine for a comfortable treatment experience.12
Discover more
For further information, look out for Galderma's Webinar on February 17th, where Dr Munir Somji will be discussing all things Restylane, in partnership with the Aesthetics journal. To discover the Restylane range and how this diverse brand can amplify your treatment offerings, please contact INSERT DETAILS. For further details on Restylane product and anatomy training from the GAIN programme, please contact: INSERT DETAILS