Leaders in antioxidant research
With four generations of topical antioxidant formulations, 10 patents, and more than 200 studies published in prestigious medical journals, SkinCeuticals is an undisputed trailblazer in antioxidant science. The results-driven brand is dedicated to improving skin health with ground-breaking research and innovation, that's backed by science. It also upholds a philosophy that comprises three main pillars: Prevent, Correct and Protect.

Together, each of these pillars ensures that every SkinCeuticals product delivers and maintains healthierlooking skin and effective anti-ageing results.
In terms of products, SkinCeuticals is most revered for its range of potent serums including C E Ferulic and Phloretin CF – potent daily antioxidants proven to effectively neutralise skindamaging free radicals and provide the skin with eight times the environmental protection.
These ground-breaking daily serums were created by the brand's founding scientist, Dr Sheldon Pinnell after 30 years of pivotal research into topical vitamin C serums. His work was instrumental in establishing SkinCeuticals as an antioxidant authority and continues to inspire and inform the brand's pioneering research.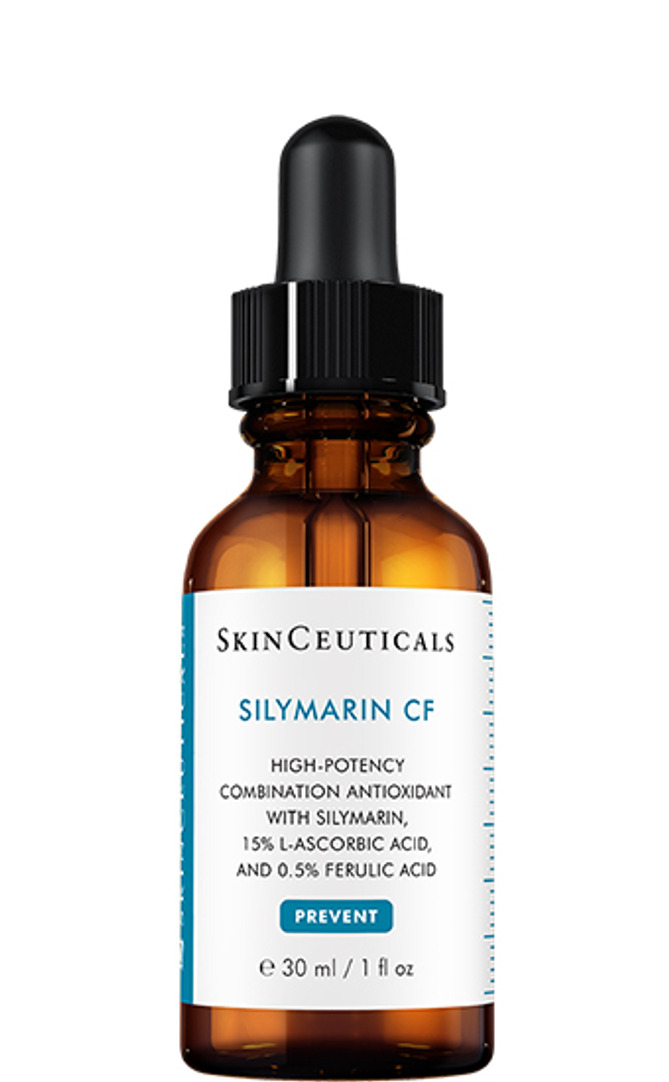 SkinCeuticals' latest breakthrough
Fast forward to 2021, and SkinCeuticals is still at the forefront of antioxidant research.
Its latest innovation is the pioneering, next-generation Silymarin CF: its first ever vitamin C serum for oily, blemish-prone skin. As with C E Ferulic and Phloretin CF, this potent antioxidant is designed to reinforce the skin's natural protection against free radical damage with a unique combination of active ingredients including 15% pure vitamin C (L-ascorbic acid), 0.5% ferulic acid, 0.5% salicylic acid and 0.5% silymarin.
Why is this important?

Growing research has shown a causative link between the formation of blemishes and oil oxidation. Oxidative stress such as lipid peroxidation can contribute to inflammation in the skin which diminishes antioxidants, creating the ideal environment for bacteria to grow. SkinCeuticals' research shows that those with blemish-prone skin actually have lower levels of antioxidants and higher levels of sebum production. This, in turn, leaves the skin at greater risk of damage but by applying antioxidants topically, lipid peroxidation is prevented, and the formation of blemishes is decreased.
Silymarin: the antioxidant answer for blemish-prone skin
Sourced from milk thistle, Silymarin is known for its detoxification properties that are believed to have a number of holistic benefits such as supporting healthy liver function. When applied topically to the skin, it's clinically proven to provide protection against environmental damage and free radicals while improving visible signs of ageing. Most significantly, its ability to significantly reduce oil oxidation makes it incredibly effective at treating oil and imperfections.
During the process of creating Silymarin CF, SkinCeuticals tested a number of antioxidants to see how well they prevented lipid peroxidation. Vitamin E, for example, is considered one of the most effective ways of preventing lipid peroxidation in the skin, but its oily and viscous texture makes it more suited to drier skin types. Silymarin, on the other hand, was originally recognised by Dr Pinnell for its antioxidant potential, ability to reduce oil oxidation and lightweight texture. Armed with this knowledge, SkinCeuticals secured a patent on its use to combat photoageing and skin inflammation.
Clinical results
In a 12-week study conducted in Brazil in 2020 with 60 women, 15% of participants saw a reduction in oiliness and 24% saw an improvement in the appearance of fine lines and wrinkles. Additionally, in a study in China undertaken in 2020, 35 of the subjects studied saw a 76% reduction in oil oxidation. As a result, participants found their skin texture and clarity was also improved, and the appearance of pores and blemishes was also reduced.
Clinical study 35 subjects (China 2020)
• Reduces oil oxidation by up to 76%
• Reduces the appearance of pores
• Reduces the appearance of blemishes
• Reduces excess sebum/oil by up to 15%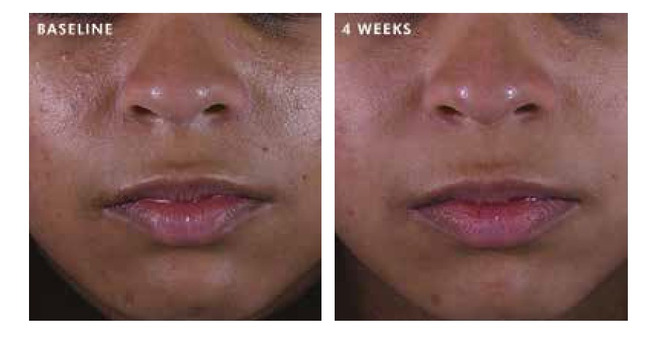 12-week clinical study, 60 women (Brazil 2020)
• Improves appearance of fine lines and wrinkles by up to 24%
• Improves skin texture
• Improves skin clarity
8-week clinical study, 55 women (US 2019)
• Refines skin texture and improves skin tone
• Reduces oiliness by up to 15%
A complete antioxidant range
The SkinCeuticals antioxidant range now comprises three vitamin C serums: C E Ferulic for dry and mature skin, Phloretin CF for hyperpigmented skin, and Silymarin CF for oily and blemish-prone skin. This potent trio will allow
SkinCeuticals consumers to find the most suitable formula for their skin type and achieve the best possible results.