Learn more about the insights behind SkinCeuticals' latest skincare innovation, Tripeptide-R Neck Repair, the award-winning formulation and Miss Jonquille Chantrey's take on the neck newcomer
Research by SkinCeuticals conducted during a 56-day clinical study has shown that 35% of its consumers* are concerned about skin ageing on the neck, which is almost on par with their worries about crow's feet around the eyes.
Clinics have also reported an increase in requests for clinical neck rejuvenation treatments such as radiofrequency and cryolipolysis.
It was this insight that inspired SkinCeuticals to create Tripeptide-R Neck Repair – its latest innovation that can be used to complement professional treatments and help consumers care for this fragile area of skin from the comfort of their home.
So, what is Tripeptide-R Neck Repair and how does it work? This daily retinol cream is specifically formulated for the neck with a tri-functional formula containing 0.5% glaucine, 2.5% tripeptide and 0.2% pure retinol. Together these potent ingredients help to correct visible neck ageing and complement professional in-clinic treatments.
In a 16-week clinical study, Tripeptide-R Neck Repair demonstrated significant improvement in early to advanced signs of neck aging. Clinically proven to reduce the appearance of horizontal neck lines by up to 16%, neck skin crepiness by up to 27%, and improving neck skin firmness by up to 16%**.
The problem
Why is ageing neck skin such a concern for patients and consumers? First of all, treating ageing signs on the neck is particularly challenging due to its anatomy. From having three times more stretch than the face, lower levels of lipids, constant movement, slower cell turnover, and a thinner texture that leaves it more vulnerable to photodamage and sensitivity, there are a lot of factors to consider.
The skin on the neck is also often left unprotected. This is mainly due to consumers not being sure of which ingredients are suitable for the neck's delicate skin as actives such as retinol and L-ascorbic acid can cause intolerance. This leads to the neck being neglected in a way that the face isn't, resulting in pronounced ageing signs such as crepiness, wrinkles (that can manifest five times deeper than that of the face), sagging and discolouration which can be notoriously hard to treat.
The solution
Tripeptide-R Neck Repair is designed to answer the needs of fragile neck skin with a formula featuring a hydrating delivery system combined with Tri-Functional Corrective Technology comprising three powerful ingredients: 0.5% glaucine, 2.5% tripeptide, and 0.2% pure slow-release retinol. Specifically formulated for the neck, it ensures it supports skin's resistance and delivers improvement in visible signs of neck ageing.
2.5% Tripeptide is known to help increase the skin's resistance to stretch, improve its capacity to return to its initial state after being stretched, and also increase overall skin firmness.
0.2% Retinol promotes cell turnover so is effective for improving the look of fine lines, wrinkles and discolouration on fragile neck skin, and in a slow release 0.2% potency, it helps minimise irritation. Research also shows that it can help to minimise the appearance of blemishes and refine pores leaving the skin feeling softer and smoother.
0.5% Glaucine
In clinic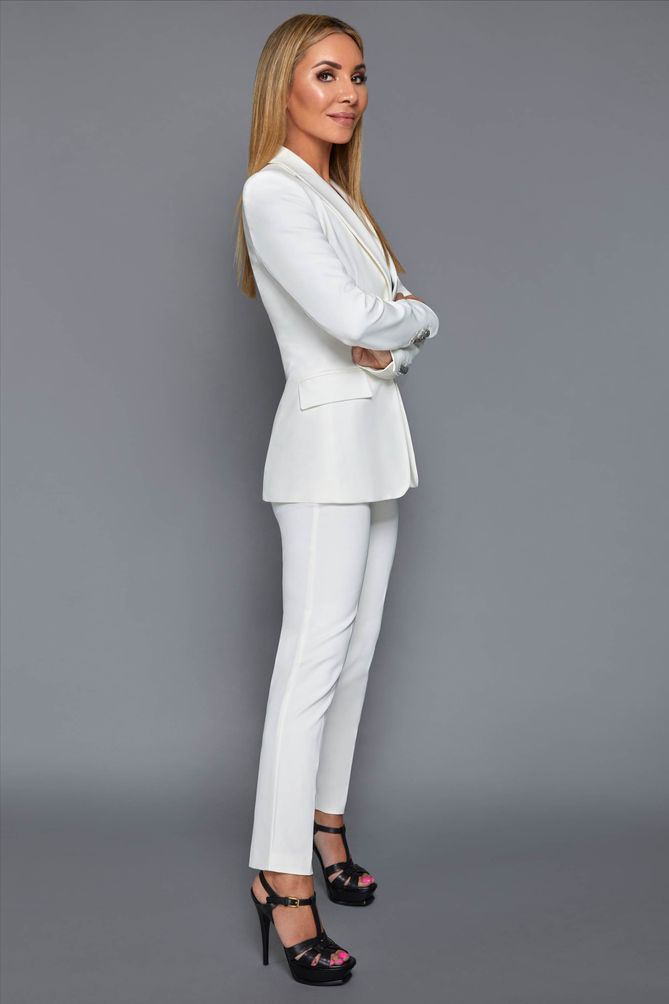 To learn more about SkinCeuticals Tripeptide-R Neck Repair, we spoke to Miss Jonquille Chantrey, a surgeon and Global Key Opinion Leader. She explained how exactly the skin on the neck differs from that of the face, the ingredients to avoid applying directly to this area, and the feedback she's received from her own patients.
How does the skin on the neck and face differ?
"Different subunits of the face and the neck have different thicknesses of the epidermis and dermis. Various studies have shown the anterior and lateral (front and side) areas of the neck have relatively thinner dermis than on certain areas of the face. As the dermis comprises the fundamental layer of the skin containing collagen and elastin, if this is thinner then early skin wrinkling, uneven texture and tone can be observed."
Are there certain actives you should avoid putting on your neck?
"Some patients will commonly complain of irritability and redness when retinol is applied. Also certain vitamin C formulations and beta and alpha-hydroxy acids can irritate this area. It isn't about avoiding the topicals but finding the right formulation at a dose that is efficacious."
Are your patients concerned with neck ageing?
"Unquestionably. From around 40 across genders, many patients will notice fine crepiness, poor skin quality and a loss of elasticity to their neck skin as well as the vertical platysma bands that can contribute to the loss of the mandibular line. Horizontal necklace lines may present much earlier and can often have a genetic component to them. Submental fullness, facial fat compartment descent, skin elastosis, class 2 occlusions and retrognathia can all impact the jawline and neck. With the advent of increased self-awareness on video calling, even more patients are concerned with the appearance of the area from mandible to décolletage."
Do you recommend any in-clinic treatments to correct neck ageing?
"I talk to my patients a lot about neck ageing and in this anatomical area, prevention is so important. First and foremost I educate patients regarding the skin. Using an antioxidant such as C E Ferulic paired with a sunscreen is obviously essential. Some peels may be used in certain patients feathered down onto the neck area. As we need to increase skin firmness and reduce the appearance of lines, a retinol is recommended, but until now it has been challenging to find a retinol topical that patients can tolerate on the thin neck skin. The new Tripeptide-R Neck Repair is therefore an exciting option for us to help our patients as it contains retinol at 0.2% which has been well tolerated and shown efficacy in early studies."
"For the horizontal neck lines and skin hydration I use skin conditioning hyaluronic acid gel. I performed the seminal European study on this product and we treated the neck extensively. Finally, high focused ultrasound and radiofrequency platforms to help to target SMAS and dermal tightening."
The regime
How should it be applied?
Apply a pea-sized amount of Tripeptide-R Neck Repair after cleansing, to clean, dry skin in the morning and evening. Massage it from the décolletage to the jowl, in an upwards direction, using gentle sweeps of the hand.
What products can it be used alongside?
Start your morning routine with C E Ferulic serum and follow this with Tripeptide-R Neck Repair. As this treatment contains retinol, it can be used alongside a moisturiser for age-related dryness such as SkinCeuticals Triple Lipid Restore 2:4:2, both morning and night. If your concern is more about loss of firmness, substitute this for A.G.E Interrupter. Both of these rich creams will help to replenish lipids while acclimating skin to retinol usage. SkinCeuticals also recommends following it with a high-protection, broad-spectrum sunscreen in the daytime.
How often should it be used?
Consumers are advised to start applying Tripeptide-R Neck Repair once or twice a week initially. After one week, consumers may wish to increase their usage to nightly then twice a day, but they should speak to their skincare professional for recommended advice and also take note of their skin's tolerance levels.
Important notes for practitioners
This product includes retinol so it is important to advise patients to follow with a broad spectrum sunscreen.
The results
In a 16-week clinical study, conducted on 50 females aged between 40-60 with mild to moderate sagging on the neck, Tripeptide-R Neck Repair was used nightly as tolerated in conjunction with sunscreen and increased to twice daily after one week. The study showed that the treatment significantly improved multiple visible signs of neck ageing:
· 27% average improvement in neck skin crepiness
· 16% average improvement in the appearance of horizontal neck lines
· 16% average improvement in neck skin firmness
· 13% average improvement in the appearance of neck skin sagging
· 28% average improvement in neck skin smoothness
This advertorial was written and supplied by SkinCeuticals
*38% of SkinCeuticals customers are concerned about crow's feet
**56-day clinical study 50 subjects. Measuring improvement of score from visual grading
This article reflects the opinions of Miss Jonquille Chantrey and is intended as general information only. Patient's should be encouraged to seek advice from a professional before starting any new regime or course of conduct.