A visionary approach to the use of ultrasound imaging with Merz Aesthetics
Over the last decade, medical ultrasound imaging technology has improved dramatically, creating clearer and more defined pictures. The advancement to portable devices has improved the accessibility of ultrasound and therefore improved patient care. We find ourselves in an age where ultrasound is sophisticated enough to fit in your pocket whilst seamlessly sending images to your mobile device. Merz Aesthetics recognise the importance of patient-centered treatment and care, and the role ultrasound will play in the field of Medical Aesthetics and therefore have invested in Vscan Air and Venue Fit Utrasound (both from GE Healthcare) for all of the healthcare practitioners that deliver training on their behalf. Coming together with the team from Cutaneous (www. cutaneous.org), Merz Aesthetics training partners practically worked through the many advantages towards patient treatment protocols; identifying previous hyaluronic acid filler treatments, mapping vascular anatomy and managing complications over two days training in Glasgow.

DR SEVI SAYS…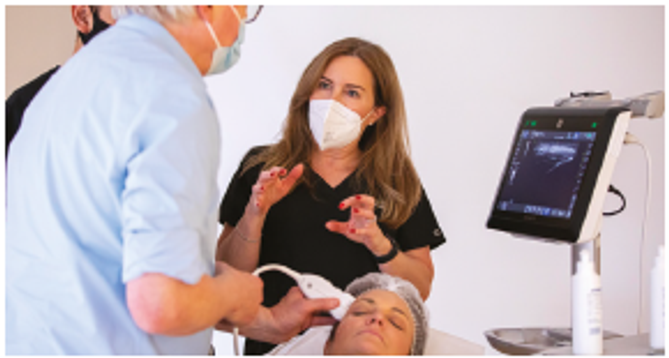 Merz Innovation Board Member Dr Julia Sevi attended the training in Glasgow and has this to say: "Merz has taken a visionary approach to the future of ultrasound imaging in aesthetic medicine by facilitating skills training, and creating a collaborative environment in which the many potential applications can be developed.
Merz Aesthetics believe their substantial investment in medical ultrasound imaging demonstrates their commitment to improving patient safety and setting the standards for future patient care in aesthetic medicine. UK colleagues and international experts spent two inspiring days learning to visualise live facial anatomy through ultrasound imaging, and also gained insights into the ultrasound-led assessment and management of adverse events from leaders in the field.
Accessible high definition ultrasound could now be within the reach of many clinics, and I believe this will herald a revolution in care. The introduction of point of care routine scanning has the potential to improve safety and efficacy, and having been privileged to now use it in my daily practice, I cannot imagine ever working without it - it would feel like being asked to drive my car with my eyes closed!
At Aesthetic Health we now increasingly use ultrasound imaging throughout our patient journeys, and so far the patients and team love it. This starts with assessment of tissue depth, thickness and individual anatomy during consultation, to better plan the treatment prescriptions.
Patients' fascination at visualising their internal anatomy supports patient engagement and a greater understanding of the rationale behind their treatment plans. Regular review of the evolving changes in tissues help us monitor the regenerative responses, to keep the plan on track, and to illustrate the internal tissue changes to our patients.
At the point of care in the treatment room, ultrasound can be used before, during and after treatment for vascular mapping and optimal placement of treatment for enhanced safety and efficacy. In adverse event management, ultrasound opens up the potential to improve outcomes through a national network of trained practitioners with centralised skills and audit. It also has the potential to augment aesthetic medical training through upgrading 3-D anatomy via live anatomical assessment of all facial layers and fine tuning our accuracy of treatment delivery.
For anyone feeling daunted at the thought, I would encourage you to dive in, because surely any direct vison of the internal anatomy of your patients is better than none. Your skills will evolve quickly once you start and soon you will wonder how you ever treated without visualising the internal landscape of your patient, before diving in."