About the JCCP
The Joint Council for Cosmetic Practitioners (JCCP) is a UK registered charitable body, which is accredited by the Professional Standards Authority (PSA)1 in recognition of our declared aim and standards which are designed to protect the public through:
Our partnership working with key stakeholders
Voluntary registration of practitioners and approved education and training providers that operate within the non-surgical cosmetic and hair restoration surgical sector
The JCCP is an independent charitable organisation that is accountable to an established board of trustees.2,3 The JCCP was launched at the House of Lords alongside its sister body, the Cosmetic Practice Standards Authority (CPSA) in February 2018.4
The charity's objectives make reference to the promotion of the health and safety of, and protection of the public by the development and implementation of high standards of performance and practice among non-surgical cosmetic practitioners and hair restoration surgeons.3 This includes the definition, creation and maintenance of an effective structure to inform the standard of professional education and training amongst non-surgical cosmetic practitioners and hair restoration surgeons.
This objectives includes working with professional regulated statutory bodies that are engaged with non-surgical cosmetic practice to agree appropriate processes for joint working with regard to fitness to practice and registrant conduct, informed by the standards of practice proficiency and safe practice set down by the JCCP.
The JCCP also provides knowledge and advice to stakeholder bodies and organisations responsible for developing and maintaining clinical and practice-based standards for cosmetic/aesthetic treatments to ensure public safety. The JCCP will achieve this through the maintenance of a voluntary register of persons who are fit to practise as non-surgical cosmetic practitioners and hair restoration surgeons and who have met prescribed criteria and continuing professional development requirements set by the Council. The JCCP has also published, operates and enforces a Code of Practice for its Registrants in the interests of public protection.5
The JCCP and CPSA Code of Practice
The JCCP and CPSA have co-designed and published a guidance document in the form of an agreed 'Code of Practice' that relates specifically to those practitioners carrying out cosmetic interventions.5 'Cosmetic interventions' means any intervention, procedure or treatment carried out with the primary objective of changing an aspect of a patient's physical appearance, and includes cosmetic procedures, both invasive and non-invasive (including hair restoration surgery). These guidelines should be seen as 'best practice' for cosmetic practitioners as mandated by the JCCP and CPSA and not as being legally enforceable by statute.5
The JCCP and CPSA acknowledge that cosmetic interventions can have significant positive and negative impacts on the health and wellbeing of patients. There have been major concerns in the media, the public and the professions about patient and public safety, and whether the sector operates in an ethical manner. To that end, it is fundamental that all practitioners have the right skills, practise at a level appropriate to their qualifications and experience, and that they ensure that products used are clinically validated and appropriately licensed. The JCCP also requires that its registrants ensure that patients receive accurate information, as well as experiencing a thorough consultation and consent process before deciding to undergo a cosmetic intervention.
The Code of Practice is based on the assumption that any practitioner who undertakes cosmetic treatments is embarking on a new career pathway, associated with significant risk of harm to patients and members of the public. The JCCP has therefore introduced a range of fitness to practice procedures that are designed to promote best practice within the sector and to set out guidelines appropriate to all levels of practitioners as to the risks involved and how to mitigate them, alongside the implementation of sanctions if required. These procedures apply to all aesthetic practitioners, regardless of level of attainment or professional background. These procedures (and their associated sanctions) apply equally; therefore, they apply to those cosmetic practitioners who are registered clinicians, as well as to those who do not have registerable status with a professional statutory regulatory body (PSRB) and who perform procedures that the JCCP formally recognises and has agreed to register. Our aim is to give a practitioner a sense of belonging to this applied area of practice and to outline the duty of care that they should provide to the public and to other practitioners.
The guidelines were developed following a wide-ranging consultation process of those involved in the provision of cosmetic treatments. In addition, where appropriate, the guidelines incorporated advice included in guidelines issued by PRSBs such as the GMC, NMC, GDC, HCPC, GPhC and PSNI. However, this guidance does not replace the requirement for clinicians registered with any PRSB to comply with their overarching obligations to that body. If, however, this guidance covers areas not included by their PRSB, the JCCP mandates that this guidance must be followed by JCCP registrants in addition to that of their PRSB.
The Code of Practice also requires all practitioners who provide cosmetic interventions to perform an audit annually and engage in either statutory or non-statutory appraisal/peer review and supervision, revalidation and/or CPD activities that are prescribed by the JCCP, without which patient safety cannot be assured.5
Aims of the Code of Practice


In summary, the Code of Practice has been produced to ensure that practitioners:5
Are appropriately trained and experienced to practise safely
Are aware of their additional responsibilities if they have clinical oversight of other practitioners and/or prescribing privileges
Are aware of their additional responsibilities if they train or assess others in cosmetic interventions
Work with each individual patient to ensure they have realistic expectations of their outcome and that they make fully informed decisions and are appropriately consented
Follow current JCCP/CPSA guidelines, standards or protocols for safe, effective provision of cosmetic interventions
Consider equally the physical, social and psychological needs of their patients
Do not allow financial or commercial interests in any intervention, organisation, company or research group providing cosmetic interventions, to adversely affect the standards of good patient care
Evidence the benchmark standards against which a JCCP registrant's conduct and practice can be judged and assessed with regard to the expected standard of safe, fit and proficient practice
Key responsibilities
The key responsibilities cited in the Code of Practice require registrants who offer cosmetic interventions to:5
Promote the safety and wellbeing of patients and promote public trust and not to bring the profession into disrepute
Keep patients safe, work to improve safety and report safety concerns and adverse events as soon as they become aware of them to the appropriate authorities (e.g. the MHRA and the CPSA)
Work in partnership with patients, treating them with respect and dignity
Work effectively and collaboratively with colleagues
Keep up-to-date with and follow all relevant laws and guidance
Be open and honest about their skills, experience, fees and conflicts of interests
Ensure all information, recommendations administered and treatments provided are evidence based
Exercise their 'duty of candour' without delay and 'whistle blow' if concerns about patient safety arise which are not taken seriously
Have transparent and robust complaints/redress policies in place and inform all patients of them
At all times seek to obtain their patient's consent to the procedure yourself rather than delegate that
responsibility
Make sure patients are given enough time and information before they decide whether to have an intervention
Consider patients' psychological needs and whether referral to another, experienced professional colleague is appropriate
Complete the necessary training before carrying out any treatment, at all times, working within their competence, seeking advice, when appropriate, from a suitably qualified practitioner and never work beyond the limits of their competence
Take particular care when considering informed consent-based requests for interventions on young people (16 and 17 years) and usually not treat children under 16 years of age, unless it is required for a medical reason
Market services responsibly, without making unjustifiable claims about interventions, their qualifications and experience, trivialising the risks involved, or using unethical or irresponsible promotional tactics that might encourage people to make ill-considered and/or uninformed decisions; registrants must follow all guidelines regulated by the Advertising Standards Authority6 and the JCCP/CPSA7
Maintain their registrations of professional and regulatory bodies as well as the JCCP/CPSA
Take part in annual audits and data collection
Take part in annual appraisal and engage in supervision as required
Conduct satisfaction surveys of at least 20 patients annually
Perform procedures and treatments from premises that are safe and comply with the JCCP premises checklist of standards
Have indemnity and liability insurance appropriate to the scope of their practice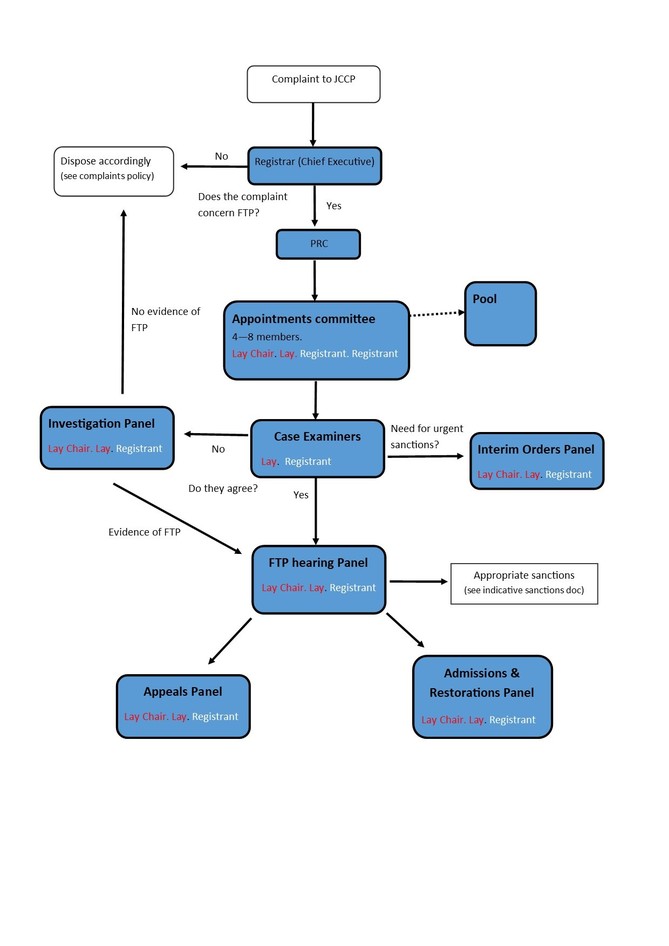 The JCCP's approach to fitness to practise
The over-arching aim of the JCCP in exercising its functions is the protection of the public and to:8
Protect, promote and maintain the health, safety and well-being of the public
Promote and maintain public confidence in the practitioners regulated by the JCCP
Promote and maintain proper professional standards and conduct in the practitioners regulated by the JCCP
To exercise its responsibility to protect the public, the JCCP has enacted rigorous admission criteria that govern access to the Practitioner Register, which is divided into two separate parts:9
1. Part One for Clinical Processionals who are registered currently with a Professional Statutory Regulatory Body (PSRB)
2. Part Two for those persons who are not registered with a PSRB. The JCCP applies the same standards of expected practice to both parts of this register
The Code of Practice referred to above forms the basis for the determination of the Council's expected standards of professional conduct, supplemented by a registrant's acceptance and adherence to the CPSA Practice Standards that relate to their specific modality/level and area of applied practice and evidence of their compliance with JCCP mandated educational and good character standards. Together these form the 'standard test' against which the Council will determine a registrant's 'fitness to practise' and standard of professional conduct.
The JCCP operates an open and transparent process with regard to its fitness to practise procedures. Robust systems and procedures have been developed and implemented to ensure public protection that include the following:8
The provision of a public facing portal on our website to encourage members of the public to advise the Council of any issues of concern, complaint or fitness to practice concern
Witness protection advice
The establishment of an Independent Appointments Committee to appoint Fitness to Practise Panel Members
The appointment of lay and registrant Fitness to Practise Panel members
The implementation of a range of Fitness to Practise Committees and processes that have been designed by the Practice Register Committee (PRC) to administer the Council's responsibilities in protecting the public which are summarised in Figure 1
Indicative sanctions guidance to inform panellists on the application of outcome judgements formed following the implementation of fitness to practise processes
A publications policy that directs the Council to publish the outcomes of its fitness to practise decisions
Partnership with other professional regulatory bodies
One of the JCCP's stated key objectives has been to establish effective working relationships with the health-related PSRBs that provide statutory regulation within the sector. The JCCP is continuing to work closely with relevant healthcare PSRBs in order to enhance public protection, to reduce unwarranted variation in care/procedural delivery and to reduce the risks that are associated with unsafe practice. In this regard, the JCCP has entered into separate Memoranda of Understanding (MoU) with the General Medical Council, the General Dental Council, the Nursing and Midwifery Council, and with The General Pharmaceutical Council.10-13 These four separate MoUs set out a framework between the JCCP and each of the above cited PSRBs to ensure that:
Effective channels of communication and information sharing are established and maintained between the named PSRB and the JCCP, to promote patient safety and high-quality services for patients receiving non-surgical aesthetic treatments (including hair restoration surgery with regard to the GMC).
Where appropriate and necessary, the processes and procedures adopted by the JCCP and the named PSRB, with regard to matters of 'fitness to practise' for healthcare registered professionals involved in the provision of cosmetic aesthetic treatments, are aligned to promote patient safety and public protection.
The four separate MoUs relate to the areas of interface between the designated PSRB and the JCCP, but do not affect existing statutory functions or amend any other policies or agreements relating to the activities of the PSRB and the JCCP. However, the PSRBs and the JCCP have set out a framework to support a productive working relationship between the respective organisations and to cooperate to deliver and (wherever practicably possible) adhere to the following principles that are set out in our shared MoUs:10-14
The need to jointly promote patient safety and public protection in the non-surgical treatment sector (including hair restoration surgery)
Respect for each other's independent status
The need to maintain public confidence in the named PSRB and the JCCP
Openness and transparency between the organisations as to when cooperation is and is not considered necessary or appropriate
The need to use resources effectively and efficiently
Recognition that the JCCP and the named PSRB are both committed to the principle of accrediting non-surgical/aesthetic practitioners against an agreed set of educational, clinical and practice-based standards who work to an agreed Code of Practice and best practice guidelines and operate PSA approved fitness to practise procedures
Agreement that the JCCP will align its practices and decisions on fitness to practise with those of the named PSRB and to recognise the primacy of the designated PSRB on all matters with regard to their registered practitioners in their capacity as a statutory regulator. As such the JCCP will, at the earliest opportunity, convey any fitness to practise-related concern and relevant information to a named individual with relevant responsibility within each of the four PSRBs
Effective communication between the JCCP and the PSRB that will be based on an overriding duty to protect patients while, as far as possible, being fair to doctors and protecting confidential health information about individual doctors. Areas of potential communication between the JCCP and the PSRB relate to 'pre and post-referral discussion' to clarify issues raised. In these cases, the named PSRB or the JCCP may discuss the matters raised by the enquiring organisation or member of the public, but the disclosing body will always ensure that any disclosures are in the public interest and comply with relevant data protection legislation and the common law. The named PSRB and the JCCP also recognise that there will be times where they both have a case open regarding enquiries relating to the fitness to practise of a PSRB Registrant. In such instances, it has been agreed that they may work together through named operational contacts.
The JCCP has also exchanged letters of cooperation with the Health Care Professions Council (HCPC) to enable the sharing of information regarding complaints relating to fitness to practise issues that might be drawn to the JCCP's attention when regarding aesthetic practice undertaken by HCPC Registrants.
First and foremost, the JCCP recognises and respects the statutory function that these Council's transact and has declared to work closely with each Council in furtherance of their statutory function without compromise to the independence that they and the JCCP possess with regards to their status, role and function. However, we also acknowledge that we share a common endeavour in our quest to protect the public by at all times respecting public trust and confidence and by promoting best professional practice in the interests of patient safety.
In this regard, the JCCP was privileged to engage with professional statutory regulators to enable open dialogue to be established during the formative stages of the Council's evolution and establishment. Furthermore, the JCCP has incorporated best practice guidelines provided by the PSRBs in the area of cosmetic practice into its own Code of Practice and has modelled its Fitness to Practice rules and procedures on those currently transacted by the professional regulators. These rules have been formally sanctioned by the PSA.
The JCCP has also signed a MoU with The Royal Pharmaceutical Society (RPS)14 to establish a collaborative partnership between the RPS and JCCP to encourage safe and professional aesthetic practice by aesthetic pharmacists. The key objectives of this partnership are to:
Promote public protection and patient safety by encouraging aesthetic pharmacists to practise safely and effectively through the use of both RPS and JCCP competencies and standards
Raise the professional profile of aesthetic practice undertaken by pharmacists
Ensure access to appropriate aesthetic training by pharmacists
Governance and the JCCP practitioner register
The JCCP has established a formal Practitioner Register Committee that will oversee and manage exclusively the Council's Practitioner Register and all associated Fitness to Practise Committee processes. The Committee is chaired by Professor Mary Lovegrove OBE. The JCCP is committed to the promotion of patient safety and public protection and considers that the endorsement of its fitness to practice procedures by the Professional Standards Agency provide endorsement of the processes that the JCCP has embedded within the context of its governance and constitutional frameworks.