Regardless of country or patient demographic, lip augmentation continues to be a popular aesthetic treatment. Annual statistics published by the American Society of Plastic Surgeons indicated that dermal filler lip treatments are on a steady rise, with 2,160,578 lip augmentations performed by its members in 2019, making it the second most common non-invasive procedure after botulinum toxin injections.1 However, the ways that patients want their lips to look is changing and techniques are constantly evolving.
In this feature, Aesthetics gains an international perspective to lip augmentation and speaks to three leading practitioners and key opinion leaders who are based abroad. Swiss aesthetic nurse Julie Horne, dutch dermatologist Dr Jonathon Kadouch and New Zealand aesthetic practitioner Dr Sarah Hart share their preferred approach to treating the lip area, and discuss the best ways to market the results.
Developing patient trends
All three practitioners have noticed a shift in what patients are requesting; for example, it's now becoming more common for people to seek subtle changes rather than dramatic results. Horne, comments, "Trends have definitely shifted in the last few years, with people wanting a much more natural look, which is something I fully support. Aesthetics isn't about a one size fits all approach. Every patient or person has different needs, and we can't treat everyone the same. It's all about a proper assessment and creating balance and harmony, rather than going as big as you can go!"
Dr Kadouch agrees. He notes, "It used to only be young females getting lip filler, and there was a popularity of getting overfilled lips. This meant that most older women were afraid to get their lips done because they didn't want to end up with an overdone, trout pout look. There is still this fear to some extent, but with more recognition and awareness about the aesthetics industry, older women are beginning to realise that they can subtly add volume in the lips to create a more youthful appearance. So, instead of classifying lip augmentation solely as an enhancement, this treatment is now also associated with rejuvenation goals. This has led to a big growth in patients who are seeking natural results. Of course, in some countries it is actually a sign of wealth to have big lips and lots of filler, so I don't expect to see these cultures have the same shift to natural results any time soon."
As well as a shift to the natural, Horne and Dr Hart have seen the Russian lip trend growing in popularity over the last year. This involves creating a very high 'Russian doll' pout, as it tends to lift the lip rather than add volume. However, the trend has proven to be controversial.
Horne comments, "The process involves using the tenting technique by placing tiny droplets of filler, injected vertically into the lip. The problem with Russian lips is that the practitioner seems to try to achieve as much height as possible, and in many results the upper lip is practically touching the nose. Although there can be some results which look good, I think most of them are way too extreme. I've actually seen videos of patients screaming while getting this treatment done because the practitioners are digging so hard and pushing the needle so deep to get the desired result!"
Dr Hart notes that younger patients are more likely to opt for this look, whereas older patients are leaning towards the natural trend outlined above. She comments, "In New Zealand, the younger crowd are going for trends like the Russian lips because it mirrors the Instagram filter look, which is popular right now. However, I find that other ages are after something more subtle. We also have a lot of people who want their procedures reversed because they originally went too big and are now after more natural results."
When asked whether she thinks the Russian lip trend will be here to stay, Horne believes it's likely to lose its popularity soon. She states, "I think it will be the same with many other trends, and it will disappear eventually! I can't see it still being popular in a few years' time. On the other hand, a trend that I've seen emerging which seems to have some longevity is patients asking for a really crisp, sharp, lip border. People are after a really good frame. There's also been a rise in patients looking for us to treat their M-shaped lips, which was challenging at first. However, now I've experimented and made my own technique they're something that I do the most of!"
Differing practitioner techniques
With recent debate on the preference of cannulas or needles for aesthetic injections,2 Dr Kadouch has seen a rise in the use of cannulas. He believes it is a better instrument for administering dermal filler into the lips. He comments, "I always use a cannula for lip augmentation. In my opinion, it's an easier and less traumatic technique. Something that is changing is that practitioners used to use very thin cannulas, but it's become more apparent that they can still puncture a vessel and cause a vascular occlusion. I would advise practitioners use a 25 or 22 gauge cannula, rather than a 27 gauge, for better safety. What I like to do is to make a small entry point just next to the corner of the mouth, and from that point I can access the body of the lip up to halfway. I can also access the submucosa space and retrogradely deposit a small amount of filler."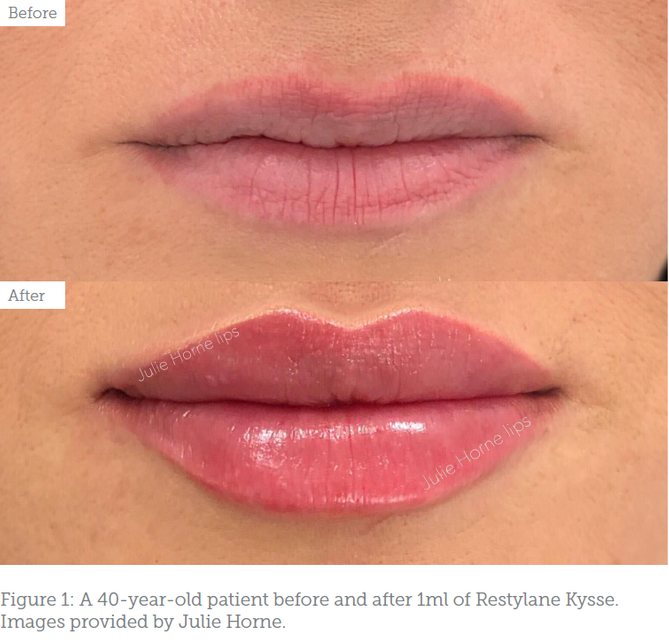 He continues, "One thing I will say about the technique I use is that you have to do it with a little pace. You can't do it very slowly because the lips will swell, making it harder to be accurate. I don't want to advocate quick and careless treatments though, so you need to learn how to pick up the pace without becoming careless. If you aren't an experienced injector, I wouldn't risk doing it this way."
Dr Kadouch also uses bone structures to create lifting. He notes, "In other injectable procedures, we put volume on top of the bone structure as its support helps to lift the overlying tissue. What a lot of practitioners don't realise is that, although being a soft structure, the oral mucosa can be used in the same way. So, in terms of lip augmentation, the patient benefits from putting filler on top of the lip mucosa, pushing the lips up and outwards. It's all about injecting other areas to help enhance the lip."
Horne takes a different approach, advocating the use of needles to create a sharper frame. She comments, "I love to have a thin, delicate and crisp border to make it defined. My favourite technique is to have an increased height in the medial third of the lip, and then let the height fade out laterally. It's a look that suits many faces, even square or round. I find that building too much volume lateral to the lip can make a patient look wide and square, which can make women look more masculine."
Horne also notes that she rarely injects a full syringe into the lips. She says, "I normally inject only 0.7-0.8ml of product. If we need to build on them then I will do several treatments over time to make the results more subtle and prevent filler migration."
For successful treatment, Dr Hart believes it all begins with photo analysis. "I always make sure that I do a really detailed assessment prior to treatment. I take photos of the lips at all angles using a professional camera and then look at them with the patient. You can get yourself into trouble if you just jump into doing a procedure without thinking it through – you need a plan. I use a blue background for my images because the skin has no blue tones in it, so it acts as a green screen. This means I can edit the background to any colour I want."
Dr Hart uses the photo as a tool to help her throughout her procedure. She comments, "Something that helps me is to keep looking at the patient's before photo while I'm treating them. This is because the numbing cream can cause swelling or bruising, so the photo serves as a way to remind myself what the original is!"
In regards to her preferred method of injection, Dr Hart also uses needles because she uses a harder filler to create more defined lips. She notes, "I use the vertical tenting technique a lot but I won't do it all the way along the lip like the Russian technique, I just use it in particular areas where I want more aversion. I also avoid directly treating in the vermilion border, because I find that just going near it enhances it enough. Doing this can also stop migration up towards the nose; that's when lips can start to look artificial and you lose that crisp definition."
Product selection
In terms of product selection, Galderma KOL Horne prefers to use Restylane Kysse, Restylane Defyne or Restylane Classic for the lips. She comments, "I started in aesthetics with the Restylane portfolio and I've studied the products very well. I know they are of excellent quality and how they all behave in different tissues, which allows me to get great results. One thing that I like about this range is that the fillers aren't hydrophilic, meaning they don't attract or hold a lot of water. When fillers do this, it creates a puffier look and, in my experience, can also change the colour of the lips."
As an Allergan Aesthetics faculty member, Dr Hart's main filler of choice is Juvéderm Ultra. She comments, "I use a lot of Juvéderm Ultra throughout my treatments because I prefer a harder filler for restructuring and shaping the lips. With softer filler you can't change the proportions of the lips as much, and so that is something I think is only good to use when you want to add some volume. I do actually use Belotero Balance as well because it blends the lip line very well. The reason that I mainly use Ultra is because I don't think anything else gives you that rounded look in the lower lip, and you can really mimic the natural elements of the lip more than you can with anything else."
Merz Aesthetics trainer Dr Kadouch uses two products when treating the lip. He comments, "I usually use Belotero Intense (or Belotero Shape) for the body of the lip to create structure and volume and for the vermilion border I use Belotero Balance (or Belotero Contour) which is uniquely suited to the most superficial injections required to treat this indication."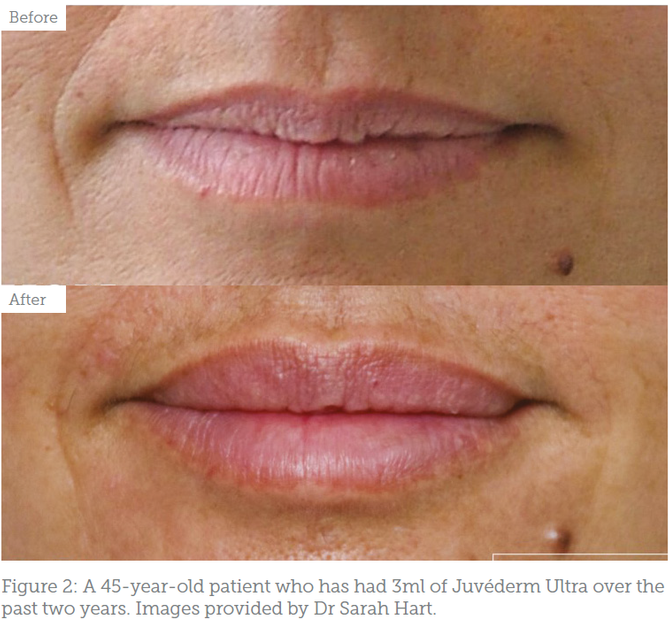 Tips for marketing lip treatments
While practitioners might achieve great lip augmentation results in clinics, many struggle to find the right ways to market themselves.
Horne's before and after photos have gained her great popularity on Instagram, now amassing 120,000 followers. She believes that this is not only down to good results, but also her presentation. She comments, "The reason I like to use before and after pictures is because patients can see photos which remind them of their own lips, letting them know that whatever they start out with, good results can be possible. Of course, you also need to ensure that patients know results may vary from person to person, so as to manage expectations. It's up to each of us how we choose to present our artwork and personally I prefer not to post images of lips that have severe swelling, bruising or blood. When I take the photos, I often apply Oxygenetix medical grade foundation around the mouth area and put a medical ointment on the lips for protection and comfort."
Although some criticise the use of ointment as being deceptive, Horne responds, "Having this medical ointment in the picture doesn't alter the result, it just makes the image look clearer and more aesthetically pleasing. In the future I will be putting medical ointment on for the before images too, so that the photos remain consistent."
Dr Hart also uses before and after images, but she believes you should take care in making sure that the images reflect the ethos of your clinic. She comments, "You need to be very specific about what your marketing aesthetic is, so that you attract the right people. If you show big lips, you'll attract patients who want big lips. Personally, I like to show a variety of patients on my Instagram, who all have different types of lips and are different ages. As well as Instagram, I also have a Facebook page. I find that Facebook tends to drive more people to my website, because on Instagram people tend to look at the photos and not the captions."
Rather than using images to market himself, Dr Kadouch relies on word of mouth. He says, "also I don't implement discounts or use prices to attract patients – I would rather have less patients than have ones who aren't interested in quality. So for me, it's all about listening to my patients and taking time with them. From there, word will spread."
The future of lip augmentation
On how lip augmentation techniques may continue to develop, Dr Kadouch believes that the use of ultrasound will become an important part of injectable treatments, something which is already very common practice in the Netherlands.3 He comments, "Practitioners can use ultrasound to scan the lips and see if there's been any filler in the lips before, as well as how much filler is left, or to see if there is any deviation from the normal structure. The last thing that any injector wants to do is create a vascular problem, so in doubt I always use ultrasound to avoid or treat complications, as well as using ultrasound-assisted injections. The industry is always changing and adapting, so we'll hopefully see a rise in safer and subtler techniques."
Dr Hart believes that the industry will see developments in techniques for hard-to-treat lips. She comments, "I do think we'll see a lot of resurgence of old techniques – take the Russian lip for example, the tenting technique has been around forever but people are acting like it's brand new! However, there are also a lot of new techniques that I think will emerge for more difficult lips, such as for ones that are sun damaged. These in particular are tough to treat because the structure has collapsed and there are a lot of lip lines."
She adds, "Recently I learnt a new technique from my colleague Dr Ellen Selkon, which involves using a mixture of filler, anaesthesia and botulinum toxin, and you place a flurry in the lips. It really helps to improve the skin quality. I think we'll see these sorts of innovative techniques start to grow when they gain more notoriety."
Horne believes that the future will also see a shift in how practitioners treat different ethnicities. She comments, "People are starting to recognise that we can't treat every lip the exact same, and that it's all about balance and harmony with the rest of the face. The previous trend has always been to have this 'golden ratio', where the upper lip is 1:3 and the bottom is 2:3. But this is only for Caucasian faces! If we look at different ethnicities around the world, they don't have the same measurements. African patients for example suit 1:1, so we need to treat them accordingly. I'm trying to make people more aware that it isn't all about this golden ratio, and I hope that diversity in treatment styles will continue to gain more awareness in the coming years."