RELIFE brand ambassadors provide insights on the latest treatment trends
For aesthetic practitioners across the country the last year has been more than challenging and without doubt unexpected, with a rollercoaster of surprises and some real hardship.
However, with the recent reopening of clinics, it has been somewhat of a relief to be worrying about the pent-up demand and how to fit clients in for their regular top up treatments. Following months of living predominantly indoors it is no surprise that clients are looking for something a little bit extra – something to give them a lift and feel ready for the new post-pandemic world. Here, RELIFE talks to some of the UK's leading aesthetic clinicians to get their insights as to what their clients are asking for, what 'Beauty of the Moment' means to them, and the trends that they are seeing coming through.
Skin rejuvenation
Following a stressful year, getting some vitamin D, eating healthily and exercising has been difficult for many. The result? Skin health overall has suffered and is evidenced by dehydrated, dark and dull appearances in patients. Dr Martyn King, aesthetic doctor and co-founder of Cosmedic Clinic, says, "The environmental effects of living indoors, especially during the winter, with cold weather, central heating, and limited exercise all take their toll and can lead to a slowdown of the skin's natural regeneration process. As a result, we have seen an uplift in the demand for treatments that give a fresh, healthy and glowing look to the skin as our patients return to normal life."
TREAT IT
Dr King says, "We've been using the Definisse Hydrobooster from RELIFE. It gives great naturally fresh-looking hydrated skin, which literally glows with health which our patients love. The pharmaceutical quality formulation refreshes the skin and boosts moisture levels using a homogenised, biorevitalising injectable gel which is really easy to use and there is little to no downtime."
'Mascne'
Face mask induced acne, or 'Mascne', is a frequent side effect of the daily mask-wearing that has become the norm with the arrival of COVID. "So called 'mascne' is triggered by excess heat, pressure, friction or rubbing of the skin, combined with sweat and oil under occlusion leading to clogged and inflamed pores," says aesthetic nurse and co-founder of Cosmedic Clinic, Sharon King. "We've definitely seen a rise in the number of patients, both men and women, who have come to the clinic looking for ways to treat acne on the lower face – a condition they have never suffered from previously," she adds.
TREAT IT
King says, "There are numerous treatments for Mascne, including topical treatments, laser and chemical peels. The Definisse Peel Program from RELIFE gives us real flexibility as there are pre-peels as well as peels – formulated for specific skin types. They give great results, improving skin texture and quality as dry, old skin cells fall away to reveal new, fresher looking skin."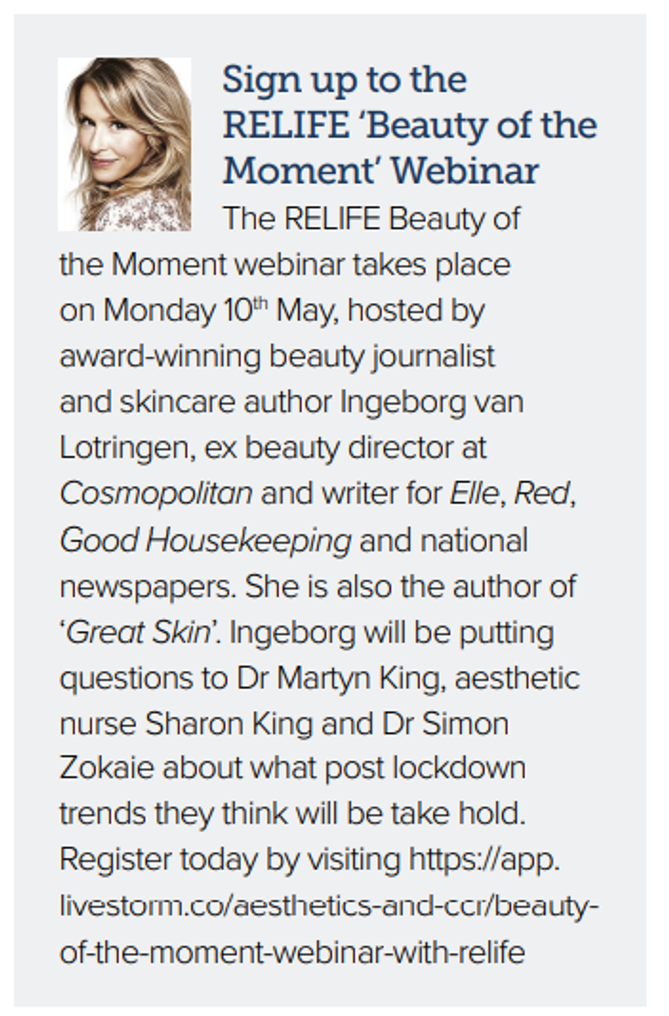 'ZOOM' face
Dr King says, "We've seen a significant uplift in clients looking for advice on treatments which focus on improving jawline angles and reduce sagging skin to the chin, cheek and jaw." He puts this down to the amount of time that clients have spent seeing themselves on screen while grappling with Zoom and Teams which have become part of everyday life.
TREAT IT
Dr King says, "One of the most effective treatments to lift and contour the face is threads. They give such great, natural-looking instant but long-lasting results which we have found has patients delighted. We use RELIFE Definisse Threads, to reshape facial contours and lift soft tissue using a unique, well tolerated thread which works in harmony with the face and can be used in conjunction with any of the RELIFE Fillers range if required."
Expert Q&A: Dr Simon Zokaie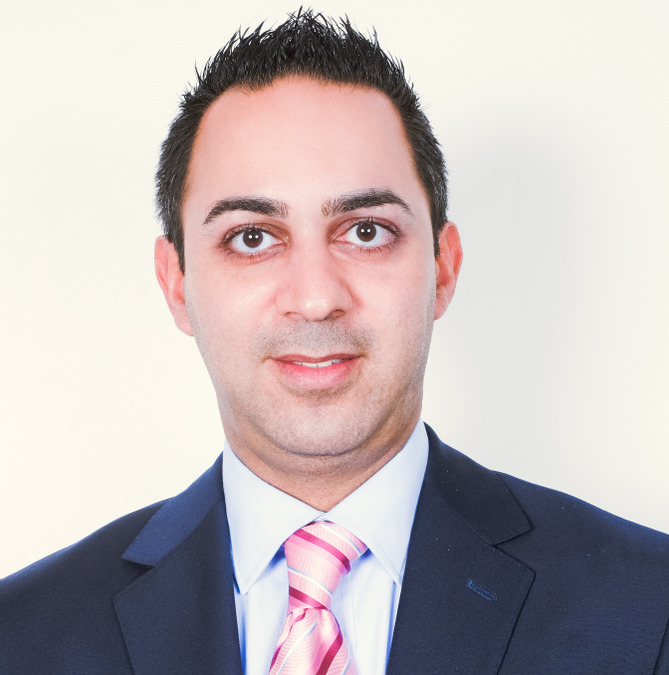 Leading aesthetic doctor and RELIFE brand ambassador, Dr Simon Zokaie, shares his take on 'Beauty of the Moment' and how he uses RELIFE to deliver great results which get his clientele coming back again and again.
What does 'Beauty of the Moment' mean to you?
For me, 'Beauty of the Moment' right now is all about natural looking results – products which work with the body, not against it. When patients have come to us talking about wanting to wake up their skin and get rid of their 'tired-looking' complexions, we've been recommending treatments such as skin boosters, which have a biostimulating effect and hydrate the skin to look fresh and youthful.
Our patients seem to be more interested in embracing their natural look and are seeking subtle tweakments rather than big changes, which will be there for all to see at the next Zoom call. It might also be that influencers have had a part to play, and younger patients especially are dissolving their filler and opting for a more natural appearance.
What trends do you predict for the summer?
After what has been pretty much 12 months of lockdown, we don't expect people will want treatments which require long downtimes. From what we've seen already, we're expecting an increased demand in natural-looking rejuvenation techniques and possibly longer lasting 'lockdown proof' treatments. This is where a range like RELIFE really comes into its own as you can mix and match peels, fillers and threads to create really natural looking results which just get better over time.
What are the benefits of using RELIFE Definisse products?
The RELIFE Definisse range provides a one-stop-shop for practitioners like me. I feel totally at ease using their range of premium, pharmaceutical quality aesthetic products. The range comprises peels, filler and threads which work seamlessly together, and equally well on their own. I was first drawn to RELIFE Definisse after attending the IMCAS conference and seeing really impressive results, with a strong science backing and safety profile.
You provide training on the Definisse Filler range – what makes the Definisse Filler different to other brands out there?
The Definisse Filler uses RELIFE's XTR technology to deliver the perfect mix of viscosity and elasticity, restoring volume safely and effectively, without migration. Whether clients are looking for a simple moisture boost, which can be achieved using the Definisse Hydrobooster, or a more longer lasting youthful plumpness, the range achieves excellent results and a naturally beautiful finish.
What can aesthetic practitioners expect from RELIFE training?
The training itself is really interactive and is run by a world-leading team of trainers. There are only four to five delegates per trainer, so it is an intimate setting and you become a close team. It is very hands on and there is no judgement at all – we encourage lots of questions to provide the best experience for everyone.

Register for RELIFE training
RELIFE provides free training from leading practitioners including Dr Vincent Wong, Dr Martyn King, Dr Simon Zokaie, Sharon King and Jackie Knight to keep practitioners up to speed on Definisse products and the latest techniques. Dr Martyn King says, "I am a strong advocate of patient safety and the amount of support provided by RELIFE before, during and after training is one of the main reasons that I am proud to support them."

Sign up now for RELIFE training at www.ukrelifemasterclass.com