We have all seen the recent wave of aesthetic clinics implementing ultrasound into their daily clinical practice. But, Dr Kim Booysen questions is it something you should be considering?
Ultrasound is utilised in most fields of clinical medicine. Ultrasound allows us to visualise the anatomical layers of the face, helps improve practitioners' anatomical knowledge and can help in identifying the correct layers for augmentation.1 Ultrasound has been shown to make placement of filler safer and improve results.2,3 Ultrasound use also improves the identification of filler complications, allowing practitioners to accurately and swiftly treat the diagnosed concern.2,3
Personally, I feel ultrasound use has increased my anatomical knowledge and improved my injection technique. My knowledge of complications and comfort with addressing these has also increased.
Why did I initially introduce ultrasound into my clinical practice?
Ultrasound had been something I had been thinking about for a while. I had used a lot of ultrasound when I was working in the emergency department and I had also made use of ultrasound with my Ultherapy device. Ultherapy, is an ultrasound guided lifting and tightening machine, used to stimulate collagen and elastin production, through heat stimulation.
Ultherapy uses ultrasound to both visualise target collagen and deliver treatment to exact tissue depths.4 So, I had been visualising superficial tissue depth for a period of time before actually purchasing a device. It was after treating a filler complication, that I bought a handheld ultrasound device to use in clinic.
I was convinced it would have made the resolution of the complication quicker and made the experience less traumatic for my patient. Although filler complications are not that common, some calculations place the incidence at 1:6800, so most practitioners, especially if they work in busy clinics, will see filler complications at one point or another. Ultrasound use can help identify these complications and aid with speedier resolution.5

How do I use the machine in clinic now?
I haven't used the device for management of an occlusion as yet, I have however treated other filler complications. I have found encapsulated filler nodules in patients who have had treatment elsewhere and I have used the device to look for old filler in all my new patients. As part of my initial consultation, I now look for the large blood vessels and vascularly map these patients. I basically look for big deviations in recognised vascular patterns in the face, I look at the quality of the blood flow before and after treatment and I look for any previous filler or other treatments such as threads to see if they are causing any concerns that need addressing.
Identifying the vascular pattern of a facial vessel has shown to help injectors take measures to avoid vessels and in so avoiding serious complications such as tissue necrosis or permanent vision loss.6
The ultrasound can be used to visualise vessels in the temporal fossa, lips, piriform space, mid-face, nose and locate the facial artery course.1 Ultrasound is therefore useful to plan where to place filler. If I can locate the deep temporal artery or follow the labial arteries this knowledge then guides me in how I will place the filler to get the best result for the patient while respecting the vascular anatomy and not putting undue pressure on the vessel. Ultrasound has also improved my filler placement in that I am able to identify the anatomy of the treatment area before injecting, select a safe area for treatment and then review if I have placed the filler in the correct area, such as a fat pad or periosteal region. In the past we have relied on tactile feedback to decide if we are placing filler periosteally or intrafascially, and on occasion we are not in the correct place, ultrasound use reinforces the feel of correct placement and allows early correction, before complications arise, if the filler is incorrectly placed.7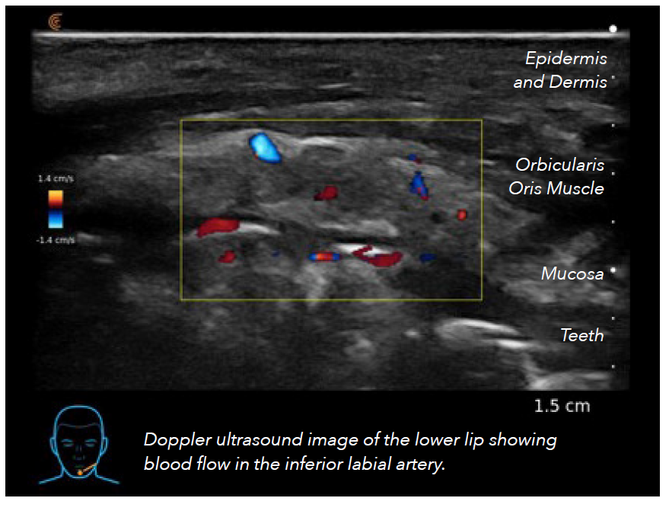 How did I train myself in ultrasound use?
I was lucky in that I had used ultrasound for eFast scans, placing central and peripheral lines and looking for cardiac functionality in an arrest situation, so the fundamentals and 'knobology' of ultrasound was familiar to me. But facial anatomy was not. I spent most of lockdown scanning my own and my husband's face trying to identify and follow vessels, looking for muscles and trying to marry that with the 2D images I had seen in anatomy text books. I spent a lot of time looking up what different muscles and vessels looked like on ultrasound. As with everything repetition is key. Initially it took me ages to find the vessels, now with a lot of practice it is quicker and I can scan and find vessels in a short time and my treatment times are not that much longer using the ultrasound.7
Once lockdown finally lifted I was able to attend training with Dr Leonie Schelke and Dr Peter Velthius, who are considered the pioneers of aesthetic ultrasound and complications management. Merz Aesthetics UK, also arranged for further training for the Merz Innovation Partners (MIPs) with these two thought leaders. The MIPs spent two days training in facial muscle and structure recognition and also ultrasound guided injection. Each MIP now uses a handheld ultrasound in their clinic to help with training and treating of patients.8 Lastly I was privileged to attend Dr Schelke and Velthuis' complications clinic at the Erasmus University in the Netherlands courtesy of Merz Aesthetics UK. This clinic has been running since 2011 and received referrals from all over the Netherlands.5 I was able to observe the clinic over two days and saw how patients with hyaluronic acid filler were treated with ultrasound. I also saw some patients with permanent fillers. These were identified with ultrasound and then treated, as much is possible with a permanent filler. Attending this clinic, further reinforced the need for accurate injections technique and for improving filler safety with ultrasound use.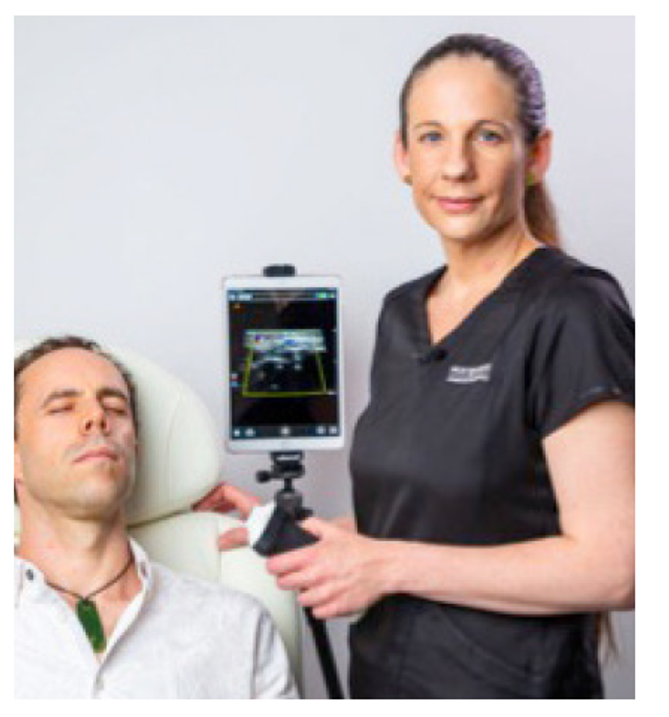 How did I choose an ultrasound to get started?
I luckily have been able to use two different types of ultrasound devices. Deciding on the one you want to purchase can be difficult as there are advantages and disadvantages to each device. Most handheld devices are light weight, can be charged in a handy desktop charger or charging pad and the images can be viewed on a mobile or iPad. Images are saved to a cloud and can be retrieved on a laptop at a later date. In my clinic I have a separate stand for my iPad and this is set up next to the treatment couch so it is ready to go with each treatment.7
You don't need to purchase the most expensive machine when you get started. At a minimum you need 4-5cm visualisation depth and a scanning frequency of around 20MHz. This will allow you to visualise all the necessary facial structures. Higher frequencies and shallower depths of penetration are ideal for facial ultrasound as facial structures are rarely deep and therefore a higher frequency will get clearer images of these shallower facial structures.7 Other the years, you may decide to upgrade to a more advanced device, but as an initial device, I have found my handheld scanner perfectly adequate for my needs.7