Research conducted by Hamilton Fraser Cosmetic Insurance has indicated that 44% of aesthetic practitioners have returned to the NHS during the COVID-19 pandemic.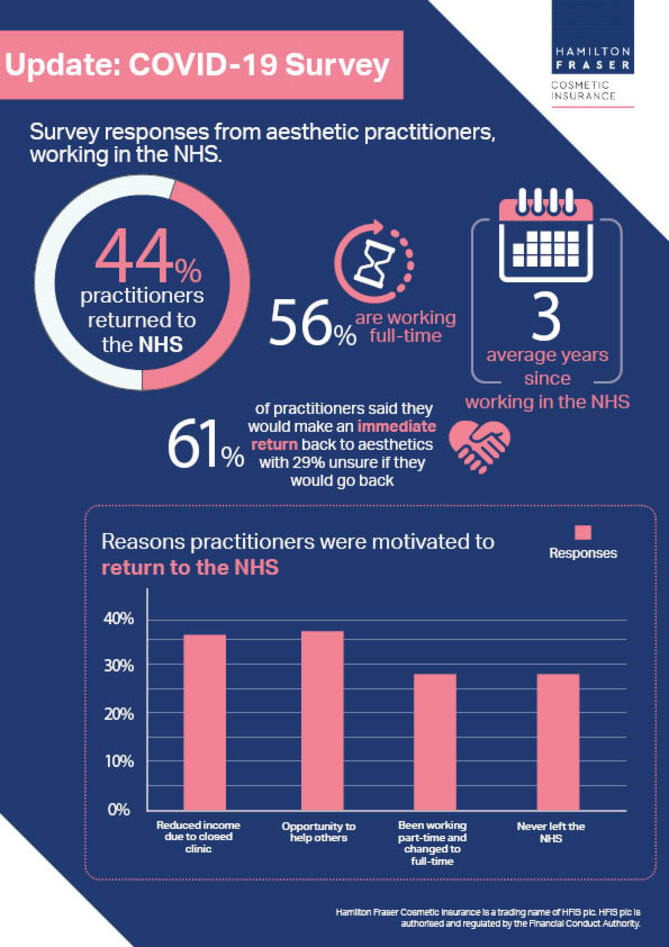 The survey of more than 600 practitioners found that the key reasons for returning were the opportunity to help others and to be able to supplement income lost from clinic closure. Others moved from working part time to full time, with 56% of respondents now working for the NHS full time.
Responses also indicated that 29% of practitioners were unsure if they'd go back to aesthetics immediately, with 61% saying they'd return straightaway.
Most of those working in the NHS said the biggest concerns they faced were the lack of PPE and the worry of spreading coronavirus to their family. Despite this, one practitioner said, "I have loved feeling part of a work-based family, everyone pulls together in times of crisis and even though many of us are tired from working extra hours we support each other – it's a job like no other. I love people; be it my colleagues, patients in hospital or aesthetic patients, when this is over I will split my time between nursing and my aesthetics business."
Other results from the survey suggested that 53% of clinic owners are using government support schemes, including furloughing employees, self-employment assistance schemes, VAT deferrals and claiming universal credit.
Mark Copsey, healthcare associate director at Hamilton Fraser Cosmetic Insurance said, "Seeing a number of our members taking the selfless decision to return to the NHS to help provide support, advice and guidance, as well as supporting their local communities is incredible. We are in awe of their selfless decisions to help save the lives of others and keep us all safe."