Dr Ifeoma Ejikeme shares a case study of a burn that was treated using oxygen and low-level light therapy
As reputable aesthetic practitioners, we are often sought out by patients who have had treatments elsewhere and present with aesthetic complications that require immediate attention. Delays in starting treatment can lead to a poor aesthetic result and permanent damage. In order to reduce the likelihood of this we must diagnose early and start appropriate treatments to improve healing. In this article, I share a case study whereby I reviewed a patient with a burn and used oxygen and low-level light therapy to improve wound healing and reduce scar formation. Prompt treatment and sound clinical judgement prevented complications such as delayed wound healing, post-inflammatory hyperpigmentation, infection and scarring.
Case study
Background
A 20-year-old female noticed a pimple on the middle of her forehead. She had normal to oily skin with no history of acne and had no other skin concerns; it was a relatively rare occurrence for her to have pimples. She went to a routine eyebrow threading appointment the same day as noticing the pimple and was advised by the beautician to apply garlic to the pimple and then put a plaster over the top, as this was a measure the beautician used to remove her own pimples. That evening the patient applied a halved garlic clove, held it in place with a plaster and went to sleep. When she awoke, she was alarmed to feel pain on her forehead and observed a lesion (Figure 1).
She initially went to see her GP who advised her to go to A&E for a review. In A&E, the area was cleaned and fusidic acid ointment was prescribed to be applied daily. The patient was advised that the lesion would heal, but that it was possible that she may get a scar, which they said should fade with time. However, distraught by the thought of being left with a large scar in the middle of the forehead, the patient contacted me the following day to see what else could be done.
Consultation
The patient has Fitzpatrick skin type IV and explained to me that previous minor injuries had healed with hyperpigmentation and, because of these experiences, she was concerned that she would be left with a pigmented scar on the forehead. The fact that she suffered from hyperpigmentation was a concern to me and I needed to consider our treatment options carefully.
A full history and examination was performed and she was otherwise fit and well with no comorbidities. The area was assessed and cleaned with 0.9% normal saline. I concluded that she had a 4cm partial thickness second-degree burn with a central blister on the forehead. I informed her that the burn may be chemical due to the garlic placed on the forehead overnight. Garlic has been used for thousands of years for its antibacterial and antiviral properties, however it has been described that topical placement of fresh garlic on the skin for long periods of time can lead to chemical burns and type IV hypersensitivity reactions.9 The effects of the garlic may have been exacerbated by the placement of the plaster sealing it in place.
Treatment options
The options of treatment were discussed with the patient. These included:
Do nothing and wait and see, as a proportion of second-degree burns can heal with mild irregularities or minimal pigmentary changes.1,2,3
Watch and wait and start 4% hydroquinone as hyperpigmentation develops.2 The negative of this would be that we would have to wait for the hyperpigment to develop. Our primary aim is to prevent this from happening. She already has evidence of what the watch and wait method does on other areas of her body.
Start low-level light treatment using a combination of red, blue and near infrared4,5,6 with the aim of improving wound healing, reducing the risk of hyperpigmentation and reducing the risk of infection.4-7
Start 70% oxygen therapy with the goal of increasing oxygenation to improve wound healing.8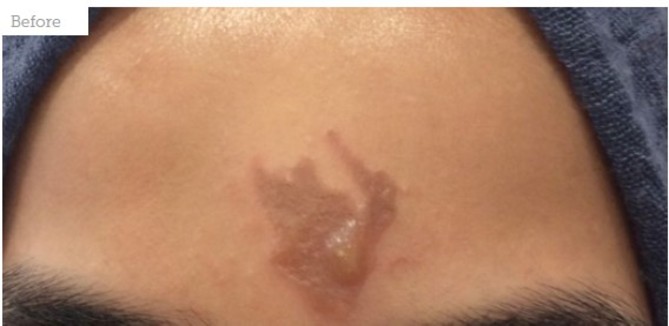 Treatment plan
After discussing the pros and cons of the above treatment options, together we decided on a plan to best reduce the risk of a scar. All treatments were recommend based on the observations of the burn at that given time. The patient understood that even with a treatment plan she may still have a scar. We decided to perform a combination of oxygen treatments and low-level light therapy with red, blue and near infrared twice a week for three weeks. Each treatment consisted of 20 minutes of oxygen therapy followed by 20 minutes of low-level light treatment. At home, the patient cleaned her face with a gentle non-foaming cleanser taking care not to agitate the burn.
Fusidic acid was continued for the first 48 hours to reduce the risk of infection. Whilst burns are often initially sterile, the presence of blisters greatly increase the risk of infection.1 The forehead was kept out of direct sunlight and covered with Mederma scar gel after the first 48 hours for the duration of the treatment plan.
The active ingredients in this specific topical include onion extract and allantoin. Onion extract has been shown to have powerful antioxidant and anti-inflammatory properties and is used for superficial and partial thickness burns.10 Allantoin has been shown to be helpful in wound healing and scar modulation.10 Then, 24 hours after the first session, the forehead was reviewed with the aim to debride the blister if it had not resolved, however it had resolved overnight. Treatments were continued and the patient showed steady improvement over the next three weeks.
Result
At the three-week follow-up, the burn had completely resolved without any textural or pigmentary changes. This was particularly surprising given her Fitzpatrick skin type2,3 and past history of hyperpigmentation from minor injuries. She was delighted with the result and had no further issues.
Conclusion
The degree of the burn was not medically skin threatening, however could have left a lasting aesthetic defect on the patient's forehead. It was important that I presented a variety of treatment options to the patient, whilst also advising her using my experience in dealing with complications. A protocol of low-level light and oxygen therapy can be started immediately after chemical and pressure burns to improve the aesthetic outcomes, as showcased in this case study. In cases such as these, where the condition wasn't considered an emergency, it's also important to offer different treatment options to ensure that the patient feels well-informed of the choices available to them and isn't pressured into one particular treatment.