Clinic operations manager Beverly Moore discusses how to effectively collect patient feedback and use it to improve your service
Happy patients are key to a well-run, successful clinic. Regardless of how skilled the practitioners who work in the clinic are, the reputation of your business depends on how your patients review your services. If patients are satisfied with their treatment, not only will they come back, but they will recommend you to others. By listening to our patients' feedback, whether positive or negative, we can aim to improve upon the service we offer, keep patients happy and maintain a successful clinic. But unless you have an effective way to collect and monitor feedback, it is impossible to get a proper picture of how they feel about the service they have received and know where you need to make improvements. Documenting and evaluating their feedback gives us a better understanding of their expectations, as well as their likes and dislikes about our service. Sometimes these reports can be rather unexpected – a patient who seemed to be happy with everything, may reveal that they were less than satisfied with some aspect of the service. The reverse also occurs – a patient who grumbles about everything can give the most glowing report. Feedback like this gives us valuable insight to help improve the service and care we offer. In this article, I shall look at the different ways feedback can be received and how to record and monitor it appropriately.
Surveys
At my clinic, we ask all patients to complete a patient satisfaction survey immediately after their first consultation (Figure 1). Even if they decide not to proceed for treatment or it is deemed not suitable for them, it's important for us to understand how they feel they have been treated. Apart from providing us with constructive feedback, the survey gives the patient a platform to tell us if something hasn't been as good as they expected. This gives us the opportunity to respond immediately. Patients are invariably very happy to complete a survey. They usually complete a paper form at the clinic immediately after their consultation. We ask patients to rate every step of their experience, from making the initial phone call – 'How easy was it to get through to the clinic on the phone?' to 'How would you rate the success of your procedure?' Most questions require the patient to give a score between 1 (poor) and 5 (excellent). It's important to make sure the questions are pertinent to the group of patients you are treating and that the data you are collecting is meaningful, so we adapt the form according to the potential treatment. The questions should also reflect the Care Quality Commission's (CQC) key lines of enquiry (KLOE),1 showing that you are safe, effective, caring, responsive to patient's needs and well-led/ managed. The CQC are expecting your clinic to demonstrate that you are meeting the highest level of service, and this is to protect both the patient and the provider. As part of the survey, we ask patients to comment on their overall experience and whether we can share their review with others, anonymously if they prefer. Potential patients tell us they find these personal reviews useful as they can relate to another patient's experience. We also receive many unsolicited testimonials in the form of thank you emails and cards. These are always shared with all members of the team and then added to the patient satisfaction report (discussed further down). If we use these for marketing we always ask permission from the patient first.
Word-of-mouth feedback
New patients are always asked how they heard about us and most frequently it is because of a recommendation from a friend or acquaintance. These word-of-mouth endorsements provide great feedback, demonstrating the highest level of satisfaction, as the patient is confident in recommending the clinic to others. Make sure you monitor how many recommendations you get as, if numbers start to drop, there may be a reason for it. While it could be any number of things, such as competitor activity, fewer recommendations may also be a sign that your patients are not 'singing your praises' quite so much.
Staff feedback
All staff play a vital part in the patient satisfaction process, from the practitioner to the receptionist. The cliché about first impressions is so true and a welcoming smile and offer of a drink can set the tone for the patient's entire visit. Don't forget that your front-of-house team is also the clinic's eyes and ears – they hear and see everything. Listen to your staff and the feedback they receive; a casual remark from a patient while chatting to a receptionist is invaluable. Our receptionists report patient comments at staff meetings and will alert their line manager to any negative comments immediately.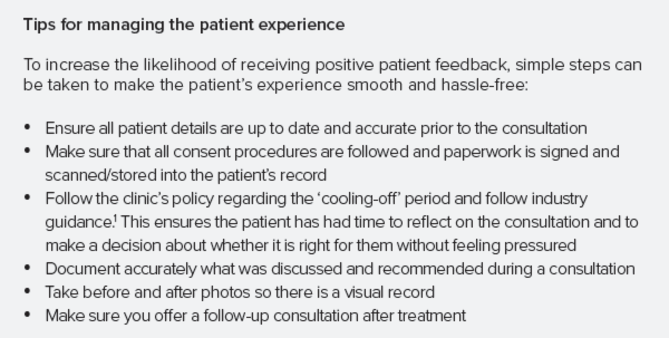 Social media

Social media is where many patients engage with us. From an Institute of Customer Service survey, of consumers and customer service executives, it was found that 12% of consumers viewed Twitter and Facebook as the perfect vehicle to escalate complaints and 39% of consumers actively provided feedback to organisations online.4 With this in mind, you must ensure to regularly check your social media channels. The comments we receive via Facebook and Instagram are extremely useful, showing what interests our patients and what is important to them. Especially monitor your star rating on your Facebook business page, as many patients will rate your business out of five and provide useful commentary. Research shows that more than half of consumers would be influenced to think more positively about a business after seeing praise on social media.3 Ensure to respond to all feedback online if you can, as potential patients like to see that a clinic is listening and responding. If you receive any negative reviews via social media channels then I suggest that you respond by saying that you will contact the patient privately and then do so immediately.
Patient complaints
We have all experienced dealing with patients who are less than happy with their patient journey – be it as trivial as not liking the décor of the waiting room or something more serious, such as not getting the results they expected from their treatment.
The aesthetic patient can be particularly challenging. They usually have a personal vision of what they want to look like and have high expectations of how the treatment will improve their appearance. Emotions can run very high if their expectations are not met. Many may find it hard to articulate exactly why they are not happy with their treatment and choose something less personal as the focus of their dissatisfaction – such as the clinic's wallpaper, for example.
However hard you try, a patient complaint is inevitable and it's the hardest way of receiving patient feedback. It can also be demoralising for the team – no one wants to feel they haven't managed a patient's expectations. I always try to manage complaints on an informal basis to begin with, as most patients just want to be listened to. If it does escalate into a more formal complaint then I follow our complaint management policy and ensure that I document every interaction with the patient. It's important to acknowledge any failing on the part of the clinic and work with the patient to put things right. Use the experience as a tool to improve in the future and see it as an opportunity to show the patient how important their satisfaction is to you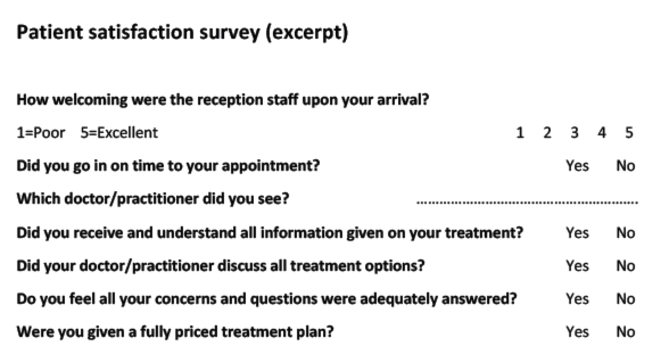 Patient satisfaction report
Each month we pull together patient feedback from all the various sources to compile a patient satisfaction report, which is shared with clinicians and staff. The majority of the data comes from the survey, but we supplement this with patient correspondence, comments on social media, feedback from staff and numbers of recommendations.
The report allows us to see if there are any areas where our service may not be meeting patients' expectations. It may be as simple as patients reporting that they were not offered a cup of tea or coffee on arrival or more seriously, a patient feeling they weren't given enough information at the initial consultation. These issues would be immediately addressed with the appropriate members of the team and we would be looking for immediate improvement in the next patient satisfaction report.
Conclusion
The only way to truly know if your patients are happy with the service they have received is to listen to them. As you can't have your eyes and ears everywhere, you need to make sure you give plenty of opportunities for patients to speak their mind. And more importantly, you need to ensure you have a system in place to log this feedback and action anything that is causing dissatisfaction. Documenting patient satisfaction also provides evidence to other providers, healthcare regulators, and new and existing patients about your performance and commitment to patient care. And last but not least, reviewing positive feedback from patients is highly motivational for all members of the team, reassuring them that they work in a happy, professional environment with patients who appreciate their skills, care and compassion. The comments from satisfied patients are a morale boost for the entire team and help to remind us all why we have chosen to work in healthcare.