Dr Fiona Durban discusses avoidance, recognition and management of delayed onset nodules following hyaluronic acid filler treatment and shares a successful case study
As aesthetic practitioners, it is important to have the knowledge and skills required to manage the complications that may occur following the treatments we deliver. With a growing number of practitioners providing filler treatments, the development of products designed for increasing longevity and patient demand, there is a heightened risk of being faced with managing a complication either immediately or sometime after a treatment is given.
Delayed onset nodules (DONs) can cause the patient discomfort and distress due to their unsightly appearance and require a long course of treatment with multiple reviews or follow-ups. It is therefore important to follow best practice and techniques to be able to recognise nodules should they occur, manage them in an appropriate and timely fashion, and ultimately avoid the development of them.
What are delayed onset nodules?
The term DONs as adopted by the Aesthetic Complications Expert (ACE) Group1 is defined as 'a visible or palpable unintended mass which occurs at or close to the injection site of dermal filler'. It is difficult to define what causes DONs as it is a non-specific term with a number of possible pathologies. They are commonly categorised as inflammatory or non-inflammatory in nature. Inflammatory nodules may occur months to years after treatment, whereas non-inflammatory nodules typically occur shortly (usually within days) after filler administration and can mostly be attributed to incorrect placement of the product. As they appear shortly after, they are therefore not 'delayed' in nature.1,2
Incidence of visible nodules following hyaluronic acid (HA) filler injection is still relatively uncommon with an estimated incidence of 0.01-1%.1 The specific incidence of foreign body granuloma, which is a subtype of a DON and can only be confirmed histologically after HA filler injection, has been reported as 0.02% to 0.4%.2,3 However it is my belief that DONs are underreported so it is difficult to indicate a true reflection to date.
How to recognise and treat DONs
From my own clinical observation of an inflammatory nodule, the patient will present with a lump or swelling alongside clinical features suggestive of inflammation – namely erythema, warmth and tenderness. This may follow an infection or a process where the patient's immune response has been activated, such as hay fever or eczema. For a diagnosis of DONs, this will occur months to years after initial treatment. If, however, the patient is presenting within only a few days of filler treatment, then infection should be suspected, and treatment should follow appropriate management guidelines, for example, such as those provided by the ACE Group.1
If clinical signs of inflammation are absent, then the cause is most likely due to incorrect placement of product or even filler migration, therefore a non-inflammatory nodule. In this case, mechanical displacement by massage or diffusion with either saline or lidocaine may be attempted.4
Treatment
The mainstay of management for inflammatory nodules will initially be antibiotics. This may be with either a macrolide or tetracycline and initially a two-week course should be given.1 There is still debate as to whether bacterial contamination5 is a cause of development of a nodule and it may be the anti-inflammatory or immunomodulatory effect of the antibiotic that plays a role in resolution.6 It has been demonstrated by plastic surgeon Mr David Funt and dermatologist Dr Tatjana Pavicic in a study in 2013 that treatment with non-steroidal anti-inflammatory medication or steroids without antibiotics may lead to a worse prognosis than if antibiotics are used initially;4 therefore, these treatments should be an adjunct, rather than alternative, where necessary. In the cases I have managed, I have also advised antihistamine medication as a further way of down-regulating any immune response.
If antibiotics alone are not resolving the nodule, then dual antibiotic therapy4 and/or treatment with hyaluronidase should be considered.7,8 The cases I have managed have all successfully resolved after use of hyaluronidase, although repeat treatment may be necessary. Other treatment modalities beyond this include the use of intralesional steroids or allopurinol.1 These treatments must all be performed by experienced and competent practitioners.
DONs are more common in patients with an active immune response, especially autoimmune diseases
Avoiding development of DONs
The key considerations can be divided into factors relating to either the patient or the practitioner. Consultation prior to treatment is therefore key to determine which is most suitable.
Patient considerations
Providing the opportunity to address patient expectations, assess competence to consent, and assess risks of treatment or of managing a complication, should it arise, is essential. If the patient is under the care of another medical speciality, I also believe it to be good practice to ensure they have no objections to the patient receiving treatment. For example, if a patient has been treated for an autoimmune disease by a rheumatology team, I would either directly liaise with the team in question (with the patient's consent) or ask the patient to provide a letter stating this. DONs are more common in patients with an active immune response, especially autoimmune diseases.6 Therefore, consideration should be given before treating patients with illnesses such as rheumatoid arthritis, systemic lupus, or even severe eczema or hay fever. These patients should at least be stable on immunomodulatory medication before treatment is considered.6 With regard to past medical history, previous history of allergies or reaction to dermal fillers would be significant grounds not to perform the treatment, as would polypharmacy, which may make management of any complication more difficult.
Case study
This 38-year-old female was fit and well with a past medical history of scalp psoriasis, which was well controlled using topical treatment. She was also allergic to penicillin.
Prior to 2017, her treatment history with myself had included upper face toxin and skin peels for rejuvenation. In October 2017, after consultation, she underwent filler treatment to the tear trough area, having a good result that she was pleased with. A 25-gauge cannula was used for administration of a low-concentration HA filler, with low G prime and cohesivity. In November 2017 she went on to receive an 8-point lift,7 then received additional filler to the cheek area in May 2018. In August 2018, which was 10 months after the initial treatment, the patient noted a red, hard lump under her left eye. She contacted me directly after noticing the lump and an appointment was made in the same week. It should be noted that this had appeared 10 days after she had a viral upper respiratory tract infection. This may have activated her immune system – leading to recognition of the filler product as 'foreign'. Upon examination, she generally felt well withno temperature. She presented with an erythematous, 10mmfirm, mobile lump. This was not tender and no lymphadenopathy was evident.
Clinical signs suggested that this was an inflammatory nodule and she was prescribed clarithromycin 500mg twice daily and also advised that she could take a regular antihistamine. She was reviewed 10 days later, when there was noted to be less erythema, although it was still visible, and there was also a palpable lump (Figure 1). Antibiotics were continued, as well as non-steroidal anti-inflammatory medication. A further week later there was no clinical change to symptoms or signs and so the decision was made to use hyaluronidase to dissolve the filler present. An intradermal skin patch test was performed to the forearm. Following this, a total of 450 units of hyaluronidase was used (a dilution of 1500 units/5ml saline). The nodule itself was targeted using a 30 gauge needle. An immediate improvement was seen with flattening and softening of the nodule (Figure 2).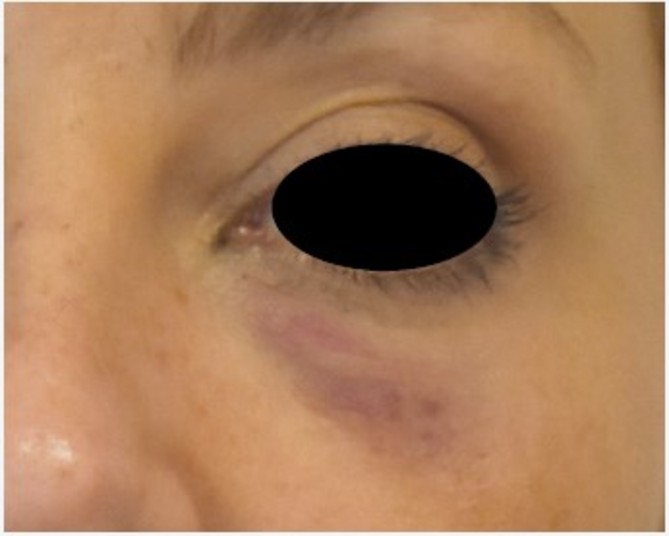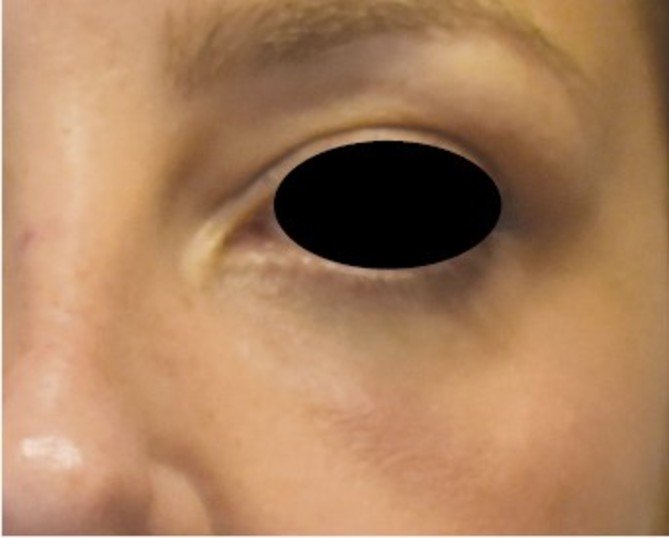 The patient was then reviewed two weeks later. The nodule under the left eye had settled but there was a new development of a non-visible lump palpated over the right anterior cheek of 10x15mm. It was not tender or red therefore I diagnosed this as a second nodule, non-inflammatory in nature.
A watch and wait policy was implemented as the lump was not visible or causing concern to the patient. She was advised to seek review if any symptoms changed. One month later all symptoms had completely resolved with no lumps evident.
Summary
Thorough consultation and consideration of all aspects of treatment, including medical history, area to be treated, product selection and injection technique should be considered. If a complication such as DONs occurs, the patient should be seen promptly and managed appropriately, also taking into account the psychological impact this may have. It is also my belief that we should not think that we work in isolation and communication with other medical professionals who may be treating the patient or an awareness of when to seek help and advice is fundamental.