Aesthetics speaks to business owners about what it's like to work with their spouse and how it can positively impact your business
Do you, or someone you know, work with a partner or spouse? Perhaps you even own and run a business together or are thinking of doing so? At Aesthetics, we have the privilege of networking with hundreds of aesthetic professionals at leading industry events such as the Aesthetics Conference and Exhibition, the Aesthetics Awards, and the forthcoming CCR in October. What we often notice when talking to professionals at these events is the high number of individuals who co-own and run aesthetic clinics, while also sharing a personal life. Aesthetic nurse Kerry Hanaphy notes, "Medical professionals have actually been 'power coupling' for a long time, even though it seems more common now. We have lots of friendsof- friends who met in medical school and married thereafter. Working in the same field brings many opportunities as it does challenges. However, it can bring a better work-life balance when you're managing family obligations, and financial planning and schedules can be managed more effectively as a duo."
This trend isn't restricted to the medical profession. According to an accounting software company FreeAgent, there are around 1.4 million couples in the UK who run businesses together.1 So, Aesthetics speaks to three couples who are working together, as well as living together, and investigates how they manage their business and personal relationships, what their challenges are, and how can they be overcome for a successful work-life balance.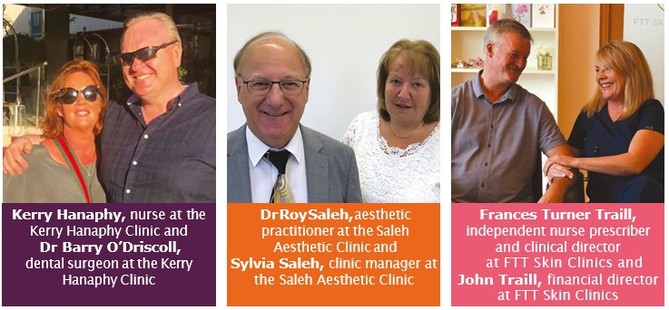 How did you begin working together?
Kerry & Barry: We met at a medical conference and instantly hit it off. I (Kerry) had begun to consider launching my own clinic and Barry had a lot of experience in business, so his input was invaluable to me. The conversation of Barry and I working together started out from a need to have a dentist onsite in our clinic for us to be able to offer toxin treatments and prescriptions. It was a perfect fit and perfect timing.
Roy & Sylvia: We both worked within other organisations, that were both within the NHS and private sectors. Once our children had grown up and finished their education, we decided to open our own aesthetic clinic. Now, Roy has been working within the industry for 33 years and we have been working together for 11.
Frances & John: John was made redundant from his job as an electronic specialist; he was at the top of his game internationally and we knew the next job would mean a move abroad with less family time and more international travel. So, I (Frances) suggested working together as I was ready to escalate my aesthetics business to where I wanted to be, with my own clinics in different locations throughout Scotland.
What is it like working with your partner in an aesthetic clinic?
Roy & Sylvia: It's wonderful! For us, it works well as a partnership. Although we both have separate roles within the clinic, we still work closely together.
Kerry & Barry: We find it's both challenging and gratifying. It's important to recognise our individual skillset and nurture that, while offering support in other areas. We find that it's a balancing act that once you get right, can be extremely rewarding. We're lucky in the fact that we completely understand each other, what drives us, our goals and unique skill sets, so we reap the benefits of a good working relationship.
Frances & John: It's fantastic and great fun. John is process driven, much more task orientated and strives to get things right, so has made our business so efficient, effective and a joy to work in. Frances is much more people orientated, with a 'let's do this, let's do this now' attitude. Overall we find that it's a perfect combination.
What positives come from working with your spouse/partner?
Kerry & Barry: Because we share a working schedule, we get to really balance our at-home life. We can easily coordinate time off together, which makes us a more effective duo at-home so we never miss any of the important family moments. The combination of my (Kerry) clinical expertise and Barry's business expertise has really helped the clinic to grow substantially. Where I (Kerry) feel like I'm lacking in business acumen, Barry has helped to educate me on this side of the business as he has more experience in this area, and vice versa.
Roy & Sylvia: It's great that we manage to understand each other so well, respect each other's advice and opinion and work harmoniously. For example, sometimes the purchase of expensive equipment should not only be based on medical grounds. Roy sometimes gets enthusiastic about new innovations and I (Sylvia) have to be the practical one who looks for a return on investment.
Frances & John: We are complete opposites. However, this really works for us and our business. John is the thinker, gets all the processes in place to make conceptual visions perfect. Frances is the clinical lead, supporting, mentoring and developing our staff, whereas John has much more of a background role with purchasing, accountancy, and strategic thinking. Although our roles are different, we do share the same vision for our clinic.
What are the biggest challenges?
Kerry & Barry: One of the biggest challenges we face is taking conflict home with us. Working in our industry we face many challenges, some of which we don't always agree on. This is something that crops up from time to time and if not managed properly can end up putting a strain on us both.
Frances & John: Your business is your passion and it can sometimes consume your whole life. It's easier for it to seep into your personal life when you live with the people you work with.
Roy & Sylvia: We don't always agree, which can be a challenge, but we always manage to discuss any issues. We often bring work home with us – it's definitely not a nine to five job, and being available 24/7 to discuss clinical matters can sometimes take over our personal time.
How do you overcome these challenges?
Roy & Sylvia: We make sure that we are always aware of time management in order to have some down time. For example, Roy is just so passionate about his work that he would never take time off. I (Sylvia) have to plan the diary well in advance in order for us to take holidays. We also try and create boundaries in order for us to have our own personal life outside the clinic. This is not always easy!
Kerry & Barry: We always try to acknowledge any disagreements as they arise. What we've learnt is that settling conflicts as soon as possible stops any conflict being brought home and interrupting that important hometime together. We've learnt to communicate very well so that any spheres of conflict are left behind when we leave the clinic. We know when to turn off work mode and just be partners; we always make time in the week to unwind with a glass of wine and talk about non-work related topics.
Frances & John: We take days off together away from the clinic much more now as we found we needed that break, and ensure we have a fabulous team that respects this. We have a chat after a day in the clinic about work for a short while each day, and then that's it. We make sure there is no more work chat until the next day.
Do you have any interesting stories about working together?
Frances & John: We went to an Allergan business development meeting and a group participation exercise was carried out to find out our personality profile and how this could be applied to our business. We found out we were officially the exact opposite from each other in personality types! The group leader laughed and said our profiles were absolutely perfect for working together in a medical aesthetics business.
Kerry & Barry: Earlier this year our clinic featured in a TV show on our national broadcast channel, RTE One that followed different sides of the beauty industry. After the show aired we had garnered a lot of attention from the public and now whenever we go for dinner or drinks we have people come up to us to introduce themselves. It's always an unusual experience, but always gives us a laugh!
What are your top tips/advice for other couples who might be in a similar position or thinking about getting into business together?
Roy & Sylvia: First and foremost, you both have to be capable of working in a partnership together or you might find that you clash, which won't be good for your business or relationship. You also have to understand the other partner's needs and also put up with idiosyncrasies. Patience is a virtue!
Kerry & Barry: Find the balance of both your strengths and weaknesses so that you can help each other learn and grow. Try to maintain your own identity by factoring in time just for you. Barry sails and I (Kerry) travel regularly, so it never feels like we're spending too much time together. Define your roles from the outset so you have a clear understanding of each other and what is expected of you.
Frances & John: Think about each of your strengths and weaknesses, to figure out where you will complement each other. We often have totally different viewpoints, but rather than being the cause of an argument, it's a huge benefit if you can listen to both sides as it's never the case that one is right and the other is wrong. Two heads are definitely better than one. We have different experiences, backgrounds and education to bring to the table as well as having our collective best interests at heart. Don't micromanage each other, let your roles develop as you grow, always encourage and support one another.
Summary
As highlighted, working and living with your partner does have its challenges, but can also result in a wonderfully successful business. Sylvia Saleh highlights that because long hours are often required to uphold a successful aesthetic business, commitment and understanding your partner is vital.Dr Saleh adds, "I believe that trust is the biggest factor of working with your partner successfully."
Kerry and Barry summarise by saying, "Something you don't expect to happen when you begin to work alongside your partner is the respect and admiration that you develop for one another when you witness your partner's skills put to use. You become each other's biggest cheerleaders, and that brings another level of desire to be successful."