Dr Kate Goldie shares her approach to creating harmonious structure and shape with BELOTERO® Volume
Assessment and consultation
My 58-year-old patient presented with general ageing concerns and sought a rejuvenated and refreshed appearance. I assessed the patient both statically and dynamically as, while we know that shadows and lines can indicate a person's age, it's really when we're speaking to them and seeing their face in animation that gives their age away.
I noted that my patient's age was most notable upon smiling. While she had volume loss to both sides of her face, previous overtreatment had left her with 'apple-like' cheeks upon animation. With such a distinct difference between her medial and lateral face, we needed to create a treatment plan that would address everything holistically.
It's extremely important that facial movement is coordinated and, unfortunately for a number of people, it can become disjointed if treatment has previously only been focused in one area.
Treatment plan and technique
My aim was to create harmonious structure and shape through injecting different layers. My product of choice was BELOTERO® Volume, which is a HA dermal filler with patented CPM technology for seamless integration into the skin.1 Its optimal elasticity and plasticity allows injectors to create natural contours, harmonious shapes and introduce lift where it is needed most. BELOTERO® Volume is ideal for treating volume loss in the mid to upper face, creating natural-looking results.2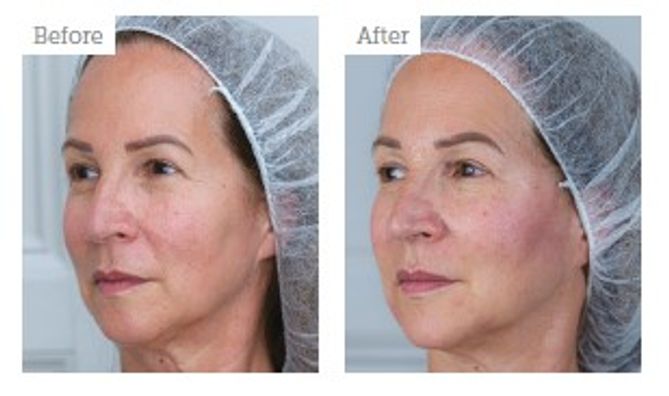 A multi-cannula technique was used, with three injection sites on each side of the face. BELOTERO® Volume can be injected into multiple layers; deep, on the supraperiosteal plane and more superficially at the subcutaneous level.3 I utilised each of these to slim the patient's face, redistribute volume laterally from the cheeks and create an overall rejuvenated and youthful appearance.
As with all treatments, I advised the patient not to put pressure on their face or wear make-up for 24 hours. Given the current situation with COVID-19, she was also given a fresh mask to wear upon leaving.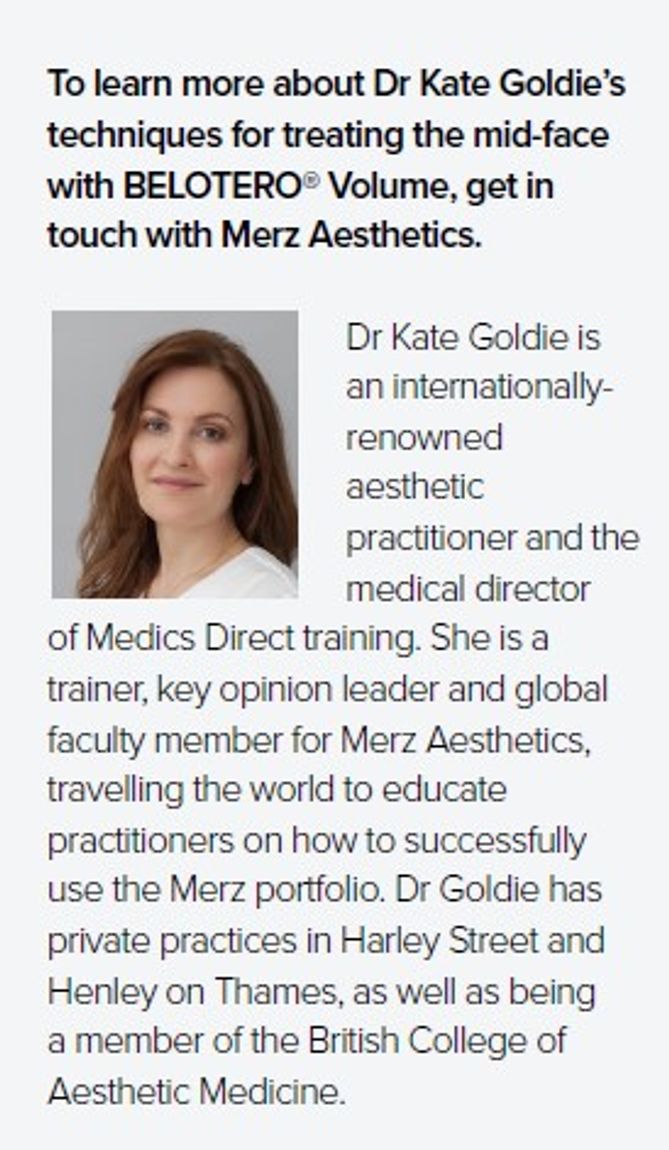 Results
For me, the best reaction to treatment is when the patient says they look like 'themselves' again, which was exactly the case for this lady. She was delighted with the result and, being conscious of her 'apple cheeks', couldn't believe how adding more volume could make her look slimmer. The treatment with BELOTERO® Volume delivers optimal modelling capacity that ensures the filler maintains projection and blends contours in each individual patient's face for up to 18 months.4
References
1. Micheels P et al. 2017;5: e1222
2. Micheels P et al. J Clin Aesth Derm. 2015; 8(3): 28-34
3. BELOTERO® Volume Instructions for Use 12/2018
4. Kerscher M et al, Clin Cosm Inv Dermatol. 2017:10 239-247