On September 9, senior leaders of pharmaceutical company Galderma UK and Ireland and aesthetic product distributor Med-fx met for the official unveiling of their partnership at the Med-fx headquarters in Witham, Essex.
Following an engaging tour of the Med-fx site to learn how Galderma's products will be stored and distributed safely and securely, Aesthetics sat down with the team to find out more about what the partnership means for practitioners and patients.
Galderma team
Alexandra Tretiakova: head of Northern & Central Europe Hub and General Manager of Galderma UK and Ireland
Toby Cooper: business unit head for aesthetics, Galderma UK and Ireland
Med-fx team
Paul Adams: managing director of Dental Directory Group, which includes Med-fx
David Tweedale: aesthetics director for Dental Directory Group and Med-fx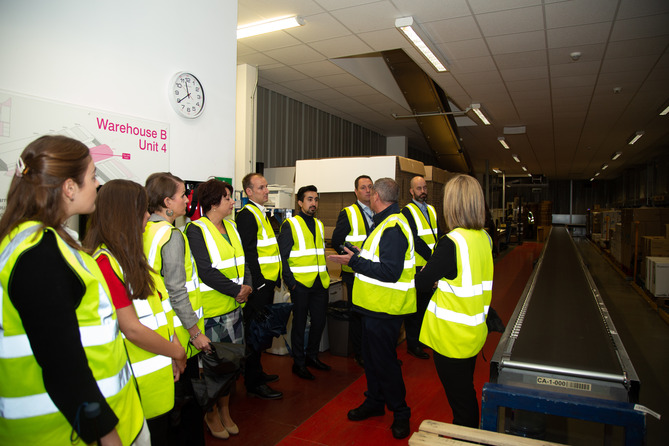 Why did you decide to launch this partnership?
Alexandra Tretiakova: At Galderma, we've been focused on bringing the best possible products to the aesthetic market for the past 20 years, but the world is moving on, things are changing, so we need to be changing with the market and what our customers want from us to be able to deliver our services and goods in the most innovative way. There was no better option than to find a partner we are aligned with, who shares the same values and objectives, to ensure our patients get safe procedures and injectors have the best possible products and services.
Paul Adams: The special thing about this partnership is we can use the strengths of both companies. We have invested heavily in this partnership in order to deliver a premium service through users' online experience, as well as the delivery of products to our customers.
Why did Galderma select Med-fx as its partner?
Alexandra Tretiakova: We went through a very robust and sophisticated selection process. We felt that Med-fx could demonstrate realistic options when it came to our requirements, so we absolutely think that we are working with the best team. We need a sophisticated approach to the delivery of Galderma products to ensure the safety of patients. We need to have full traceability to be able to contact our customers and have proper feedback from them, deliver proper training and education on the technicalities of the products, as well as how to talk to patients to ensure we have happy, satisfied customers.
We felt that Dental Directory Group and Med-fx were very much in-line with us in their willingness to work hard and make things happen. We may have mistakes along the way, we're not going to be perfect from day one, but we understand each other.
Toby Cooper: Together, we want to be seen as leaders and champions in the marketplace and ensure people see us as championing quality and standards, working with people who are properly trained and making sure that practitioners have access to high-quality training, so that they can always offer the highest quality products and customer service.
Why did Med-fx want to work with Galderma?
Paul Adams: There is a great cultural fit between the two companies – we are very aligned in how we do things. We believe we can build and strengthen ourselves on being able to share and learn from each other.
David Tweedale: The partnership works because Galderma has a premium product range – arguably the best in the market – and both companies want to improve patient safety. Med-fx has a legacy of not being the best at customer service in the past; however, as part of the tender process for this distribution, we were able to demonstrate that we have clear metrics and are a different company to what we once were. We are going to bring full traceability of products to the market, knowing exactly where the product has come from and where it ends up. Over the next couple of months, we're working on some truly exciting and innovative things and are delighted to be on the journey with Galderma.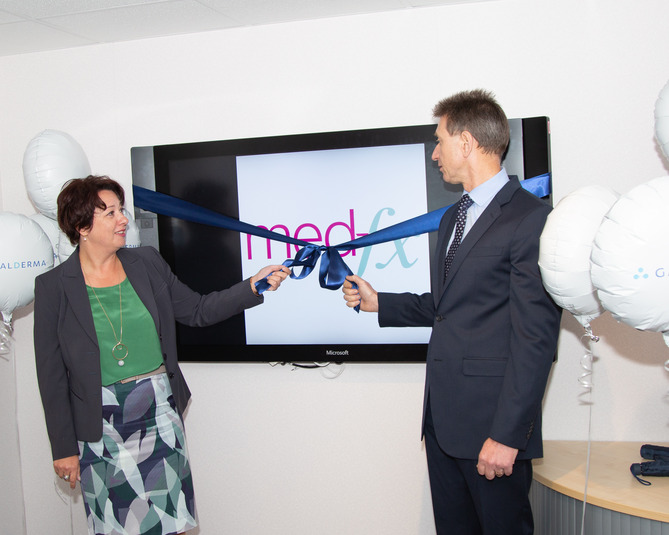 From a practitioner perspective, how is their experience going to be enhanced from this partnership?
Paul Adams: Aesthetic practitioners are medical professionals who deserve good quality service, good information flow and support, in order for them to be able to do the right things for their patients. We endeavour to be as professional as they are and deliver them exactly what they need in both the products and services we offer.
Alexandra Tretiakova: There's lots of things that we have planned that we can't reveal at the moment, but we're going to be releasing some innovative and breakthrough solutions for practitioners. We are reacting to their needs and demands, giving them what they need to have a great business and happy patients. We don't believe that we can dictate to practitioners on what they need, we want to listen to them and make sure that they have what they want to make their everyday practice an enjoyable experience.
What are the benefits to patients from this partnership?
Paul Adams: To start, the efficiency and efficacy of the Galderma products is excellent. Our investment in the service we give to practitioners will ensure they can provide something special to their patients.
Alexandra Tretiakova: We want every person who comes to see an aesthetic practitioner using Galderma products to be happy with their experience and what they see in the mirror. It has to be an enjoyable experience so that they are happy to talk about it, not to be ashamed about having aesthetic treatment, to be proud of it, and come back as life-long patients using our product and services from our healthcare professionals.
Toby Cooper: While we are all heavily involved in the aesthetics industry with our work, it's not just about selling products. We have got friends and family getting these treatments and we want to ensure that when they go and see somebody, they're getting the best service and safest treatment as possible, which really lives up to their expectations. We are confident that when they go to see a practitioner using Galderma products, they're going to get the result they want with safe products and be in safe hands.
What would you say to practitioners who are apprehensive about how this partnership will affect them?
David Tweedale: From a Med-fx point of view, we want to be able to make everybody happy, but unfortunately in the modern-day world, that isn't always possible. One of the things that we're going to do is be more transparent with our metrics, so we can demonstrate why Galderma chose us as their partner, and why we believe we are the best partner for them.
Alexandra Tretiakova: It's a new chapter in our lives and in our business, but we totally believe it's the right thing to do. We are super excited that it's happening, but we are very pragmatic and realistic people, so hope to continue to get better in our service delivery.
Med-fx and Galderma customers will soon have access to a new online portal on the Med-fx website, which will provide product information and clinical papers to review. In the meantime, customers can access some downloadable materials now.