Dr Ellie Sateei discusses profiloplasty to balance the profile of both older and younger patients
Profiloplasty is a non-surgical, non-invasive treatment used to create a more balanced appearance to the face. Instead of surgery, dermal fillers are used for chin augmentation, rhinoplasty, and lip enhancement.

Together, these alterations result in more balanced facial proportions for different age ranges. This is especially true for older patients who loose volume in their mid-lower face and wish to restore balance between their nose, cheeks, lips and chin. My preferred choice of fillers for projection are STYLAGE® L and STYLAGE® XL. I find that both these fillers move graciously with the muscles and mimic the area of injection without looking stiff. STYLAGE® L works wonders for older patients, as well as those with thinner faces, due to it being very soft, while achieving a beautiful lift as it is still very mouldable.
STYLAGE® XL is hydrophilic, therefore the projection given is natural, as it adapts with the tissue. What's especially great is that the STYLAGE® fillers do not swell. This leaves patients happier as their downtime is much less than any other products which I have used.
To achieve profiloplasty, three to four sessions is recommended. I try not to inject too much at once, to allow the product to accommodate in the tissue, while respecting the patients' natural features.
I tend to assess my patients based on the consultation; alongside their age, lifestyle, job, and ethnicity, which affect the target areas: cheekbones, lips, chin, forehead, and nose.
What's nice about the STYLAGE® Volumizer range is that the different products are composed of a specific rheology to suit a variety of patient profiles. There are softer products for mature patients and harder products for younger patients, which lifts and moulds it beautifully. This range of STYLAGE® products helps me plan a bespoke treatment for patients based on their age group, type of skin, elasticity and even their ethnicity.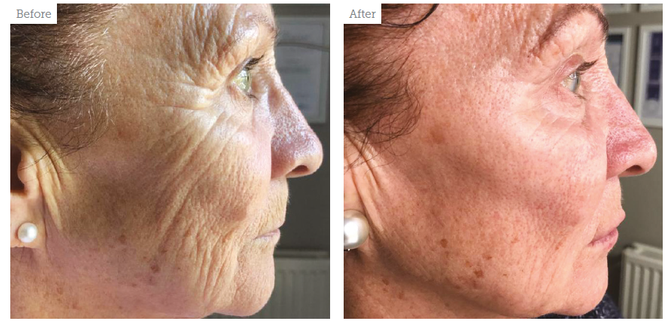 Profiloplasty demand is increasing due to patients leading very busy lives, who prefer not to go under the knife. Alongside the rise in online lifestyles, on Zoom meetings for example, where individuals are left looking at themselves from all angles. Therefore, injectables are the go-to solution for many people with multiple different reasons, as it really does cater to all.
Individuals with a subtle change in mind could be treated with injectables and the other extreme of patients who wish to be reshaped completely, could also be treated by injectables.