'Mummy Makeovers' can be big business in aesthetics. Women who have experienced pregnancy and childbirth may have body hang-ups that exercise and healthy eating cannot address alone, which is where you can help. Many may be quick to assume that surgery is the only option to treat particular post-partum concerns, yet there are numerous technologies on the market that offer effective results for various indications with minimal downtime. So, if you're considering adding a new treatment to your clinic, why not look into a device that could appeal to so many of your patients?
Here we detail three of the most common post-pregnancy concerns and some of the device-led options you can potentially offer for each. A number of the options outlined can be combined with other treatments for enhanced results, so bear this in mind and conduct further research before making up your mind. Each description has been adapted from articles specifically on each of these topics on the Aesthetics website.
Body contouring
Concerns addressed: excess fat, loose skin
Cryolipolysis
Adapted from: Body Contouring Using Cryolipolysis by Mr Geoffrey Mullan and Using Cryolipolysis to Treat Fat by Dr Galyna Selezneva1,2
How it works: cryolipolysis involves exposing fat cells to low temperatures. They are then triggered to undergo apoptosis, resulting in an inflammatory response and removal by phagocytes over 12 weeks.
Clinical research suggests: in a 2013 study of 518 patients, 891 total areas were treated and analysed. These included the flanks (59%), abdomen (28%), back (12%), inner thighs and knees (1%), and buttocks (1%). The majority of sites were treated once (86.5%), although some areas were treated two (13%) or three (0.5%) times. The authors reported that 86% of patients showed improvement, 73% were satisfied and only six were dissatisfied after initial treatment, which dropped to two (0.4%) after a second treatment.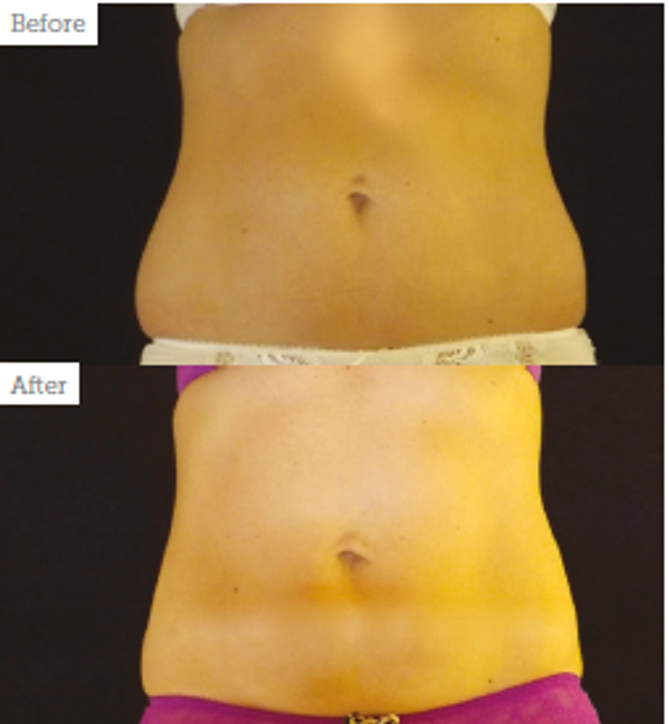 Risks: research has indicated that cryolipolysis does not produce any significant adverse complications; however, redness and bruising can be expected, which will generally resolve quickly. Late-onset pain may occur several weeks after treatment, but this usually resolves without intervention. Short-term changes in the function of peripheral sensory nerves may take place, but these return to normal within several weeks with no long-term damage to nerve fibres or skin. In rare cases, additional fat, known as paradoxical adipocyte hyperplasia, can grow at a treatment site, the incidence of which has been indicated as 1 in 20,000 patients.
User insight: "In my experience cryolipolysis is a suitable, safe option for patients who do not wish to have the risks and downtime associated with surgery and my patients have shown a high level of satisfaction."
Mr Geoffrey Mullan
High-intensity focused ultrasound
Adapted from: An Overview of Non-surgical Body Contouring Treatments by Dr David Jack and An Introduction to Fat Reduction by Dr Tatiana Lapa and Mr Rishi Mandavia3,4
How it works: focused ultrasound is used to create deep areas of coagulative necrosis in the subcutaneous laser, which results in volume reduction and tightening, while not damaging the surrounding tissues.
Clinical research suggests: response is usually evident within two weeks and complete within three months. One study in 2013 supported mean reductions in waist circumference ranging from 4.2-4.7cm, 12 weeks after the procedure. Another more recent study in 2020 found a reduction of 3.43cm in mean waist circumference and fat thickness after eight weeks. It should be noted both had small sample sizes.
Risks: mild redness, swelling and tenderness can occur immediately but will generally not persist. In one study, pain was measured as 2.74 out of 10 immediately after treatment, which reduced to 1.10 after one week.
User insight: "More than one treatment is usually required to provide optimal results. These treatments are suitable for all skin types and generally have a minimal side-effect profile."
Dr David Jack
Non-thermal low level laser therapy
Adapted from: Treating the Body with Low Level Lasers by Robert Sullivan PhD5
How it works: non-thermal low level laser therapy (NTLLLT) has been indicated to effect body composition through inducing changes in adipocyte metabolism and changing the expression of the hormone involved in appetite, leptin.
Clinical research suggests: in a study to examine the clinical effectiveness of a 635-680 nm NTLLLT, results of 40 participants showed a statistically significant cumulative girth loss of 2.15cm after eight 30-minute treatments over four weeks. NTLLLT has also shown to provide further benefits, including a reduction in cholesterol and leptin levels. In a two-week trial of 22 patients, a 50% reduction after six treatments was demonstrated.
Risks: believed to be minimal. One review reported 38% of 1,114 patients treated described swelling or erythema at the treated area, 32% had pain or tingling during, and increased urination was also reported.
User insight: "I frequently hear patients report feelings of more energy, improved health, less pain and better sleep patterns. It is plausible to conclude that NTLLLT improves cellular function and, as supported by the presented evidence, the ability to restore, reenergise and rejuvenate."
Dr Robert Sullivan PhD
Radiofrequency
Adapted from: An Overview of Non-surgical Body Contouring Treatments by Dr David Jack and An Introduction to Fat Reduction by Dr Tatiana Lapa and Mr Rishi Mandavia3,4
How it works: radiofrequency (RF) treatment involves the heating of skin and deep tissue, resulting in vasodilation and inflammatory changes, with subsequent stimulation of dermal thickening, deeper connective tissue thickening and reorganisation.1
Clinical research suggests: heating the adipocyte layer to 43-45°C has been indicated to induce selective apoptosis in fat cells, with volume reduction three to eight weeks post-treatment, with up to 3cm reductions in waist circumference following 10 treatments.
Risks: transient effects such as erythema are common and expected. While RF treatments are considered on the whole to be safe, these devices are operator dependent so complications such as burns do still occur. In addition, older monopolar RF devices have been associated with uneven depths of RF penetration, later unevenness of fat breakdown and associated surface contour abnormalities. Bipolar or multipolar RF handpieces tend to be much more predictable, so the risk is less with these when compared to monopolar RF.
User insight: "RF can present challenges in terms of pain management. Topical anaesthetics that numb the epidermis are not recommended as they may aggravate pain, whilst local anaesthetics may interfere with delivery of RF waves. Oral analgesics are the generally recommended agents for pain management."
Dr Tatiana Lapa and Mr Rishi Mandavia

Vaginal rejuvenation
Concerns addressed: vaginal laxity, stress urinary incontinence, sexual dysfunction
Radiofrequency
Adapted from: Vaginal Rejuvenation by Dr Mayoni Gooneratne and Rejuvenating the Vagina by Allie Anderson6,7
How it works: RF generates volumetric heat in the tissue, promoting collagen and elastin production. No anaesthesia is required, and patients report a tolerable sensation of warmth. Treatment takes 30 minutes or less to administer.
Clinical research suggests: a 2015 study among 23 patients, who underwent three treatments at 30 minutes each, found that all experienced a tightening result, and significant improvement in urinary continence and sexual satisfaction. There were no adverse effects reported. A 2017 randomised, single-blinded and sham-controlled study of a different RF device found that a single treatment was associated with both improved vaginal laxity and improved sexual function.
Risks: treatments that are based on the ablation of mucosal tissue have a longer recovery time than non-ablative techniques. A 2011 histological study looked at ovine tissue treated with ablative and non-ablative low-energy RF. The study concluded that the non-ablative treatment delivers RF at levels insufficient to result in thermal cellular necrosis. Procedures should be delayed for at least six months' post-pregnancy to allow time for the restoration of hormonal levels and the resolution of anatomical changes caused by pregnancy. A woman should also have ceased breastfeeding at least three months prior to evaluation for any treatment.
User insight: "Vaginal laxity is a common problem for women, especially after pregnancy and birth, and into menopause. However, due to embarrassment and lack of knowledge, it remains under-diagnosed. As women gain knowledge and confidence in this area, and seek effective treatments, we can expect continued development in the non-invasive energy-based devices. Initial studies suggest that they can be effective treatments for vaginal laxity with mild to moderate symptoms, for women of all ages, both pre- and post-menopause."
Dr Mayoni Gooneratne

Laser
Adapted from: Vaginal Rejuvenation by Dr Mayoni Gooneratne and Rejuvenating the Vagina by Allie Anderson6,7
How it works: CO2 and Erbium:YAG lasers are both used for vaginal rejuvenation. While they operate at different wavelengths, each uses fractional photothermolysis where light energy from the laser creates heat damage at multiple microscopic areas within the skin. The thermal necrosis then triggers a wound-healing response which results in the formation of new elastin and collagen fibres, thus firming and tightening the tissue. Treatment takes between 10 and 30 minutes, with no anaesthetic necessary.
Clinical research suggests: a study in 2014 aimed to assess the efficacy and feasibility of fractional CO2 laser in the treatment of vulvovaginal atrophy in postmenopausal women. 50 women aged 54-66 years were assessed before and after three applicationsof treatment. The study showed a significant improvement at 12 weeks' post treatment.
A separate study published in 2017 assessed fractional CO2 laser treatment in 21 perimenopausal women. At 12 weeks' follow-up, 82% of patients showed a statistically significant improvement in vaginal health, 81% reported improvement in sexual gratification and 94% reported improvement in vaginal rejuvenation. Erbium:YAG lasers operate at a lower wavelength than CO2 lasers, but treatment works on the same principles. A comparative study found that there was improvement in vaginal tightening in both groups. A 2014 study into the use of Erbium:YAG for the treatment of vaginal relaxation looked at 30 post-partum females aged 33-56 years, who each received four sessions of treatment. No adverse events or side effects were recorded, and significant improvement in vaginal laxity was seen in all subjects at two months' post procedure.
Risks: non-ablative laser treatments have been found to be well tolerated with no serious adverse effects. One study of ablative fractional CO2 laser treatment found that some patients experienced a burning sensation, which lasted up to five days' post treatment. Patients treated with CO2 laser should refrain from sex for five to seven days, and with the Erbium:YAG laser, for three days. Side effects are limited to mild bleeding or spotting, and the procedure lasts around 20-25 minutes. As above, vaginal treatments should take place at least six months' post-pregnancy and the woman should have ceased breast feeding for at least three months.
User insight: "Laser treatment aims to improve the tone of the vaginal wall, thereby improving sexual function and pleasure. By treating the anterior wall of the vagina, it also has very significant effects in treating stress urinary incontinence."
Mr Christopher Inglefield
Scarring transformation
Adapted from: An Overview of Microneedling by Chloé Gronow, Treating Striae Distensae by Dr Kieron Cooney and Scar Treatment by Dr Carolyn Berry8,9,10

Concerns addressed: scars, stretch marks
Microneedling
How it works: when causing the right form of injury, the dermis reacts to the trauma by repairing itself, generating new collagen and elastin, resulting in a rejuvenated appearance. Pens and roller devices can be used. Longer needles are advised for scar treatments.
Clinical research suggests: 30 women with striae rubra who were treated with three treatment sessions, six weeks apart showed a positive outcome. Researchers analysed microneedling alone versus microneedling with a TCA peel and showed improvement in both groups, albeit more so in the combined. Microneedling is more commonly used in combination with other treatments.

Risks: generally not recommended for keloid scarring, active infection on a dark and unstable skin type. Side effects can include bleeding, slight bruising, redness, dryness and skin flakiness.
User insight: "Microneedling is an option if someone cannot afford downtime or is on a tight budget." Dr Harryono Judodihardjo
Laser
How it works: treatment leads to epithelial damage with resultant re-epithelialisation, and stimulation of extracellular collagen synthesis and increased elastin production. There is remodelling of the tissue with a resulting improvement of surface appearance. Lasers that target the water chromophore in skin, such as the ablative 1060 nm CO2 laser, and the 2940 nm Erbium:YAG laser, are widely used in the treatment of acne scars. As such, these lasers are also being used for the treatment of stretch marks, which have similar histological features as acne scar tissue. Other lasers can also be considered.
Clinical research suggests: pulsed-dye lasers have been shown to have good results for striae rubra, as have 1064 nm Nd:YAG lasers. Ablative and non-ablative fractional lasers such as 1060 nm CO2 laser and the 2940 nm Erbium:YAG laser mentioned above, are more commonly used with successful results. Of note is a study evaluating the effectiveness of a RF device in combination with a pulsed dye laser, in which 89% of the patients showed good to very good overall improvement. Multiple treatments are recommended.
Risks: as with other laser treatment, side effects can include redness, swelling and itching. Burns comprise more serious side effects. It's also important to note that treatment will not completely eradicate stretch marks, just reduce their appearance.
User insight: "I believe that the literature indicates that chronic striae alba (pale, atrophic, avascular lesions, similar in appearance to stretched, mature, scarred tissue) appears to be more resistant to laser treatment, though ablative and non-ablative fractionated laser devices do offer optimism."
Dr Kieron Cooney
Radiofrequency
How it works: the technology works by passing an electric current through the tissues. Those tissues that have high resistance absorb the energy converted to heat and again elicit a collagenesis response.
Clinical research suggests: in one study, nano-fractionated RF was applied to 33 women with striae alba on the abdomen or buttocks, over three sessions at four weekly intervals. It was reported that there was improved appearance; assessed by a blinded photograph assessment, clinical observations and patient feedback. It was reported that RF may be more effective when combined with other modalities such as laser. There are also devices available that combine microneedling with RF, which can offer enhanced results.
User insight: "Research into the use of RF in combination with PRP, microdermabrasion and microneedling is worthy of more consideration as few studies have looked at the benefits on the appearance of stretch marks in combination."
Dr Kieron Cooney
Consider wellbeing
Despite the business opportunities 'mummy makeovers' can bring, your patients' mental health and general wellbeing should not be forgotten. According to a survey by the Mental Health Foundation, more than half of 1,572 women aged 25-34 felt more negative about their body image after pregnancy.
11
Practitioners should not take advantage any vulnerabilities associated with this and must always offer an in-depth consultation and refer to an appropriate specialist if necessary.