Dr Rita Rakus presents her top tips for hand rejuvenation
In this digital age especially, hands are exposed both to the elements and to public scrutiny. According to award-winning cosmetic doctor Dr Rita Rakus,1 patient demand for treatment in this era of hand rejuvenation is only going to keep growing and so it's more important than ever to ensure an effective treatment offering.
"We're in a digital age now where patients are much more image focused and this extends to the hands too," says Dr Rakus. "Patients are realising that they no longer have to endure hands that look older than their face. To ensure a fully holistic approach, it is absolutely vital to ensure effective treatments for the hands are available within the clinic."
According to Dr Rakus, patients are also much more knowledgeable too. "We are also working with a much more informed population as patients are now able to research potential treatments," she explains.
The skin on the hands, like skin elsewhere on the body, undergoes both intrinsic and extrinsic ageing. Extrinsic ageing is caused by environmental factors such as sun exposure, chemicals and smoking and will directly affect the epidermis and dermal layers leading to issues such as uneven pigmentation, solar lentigines, actinic keratosis, punctate hypopigmentation and solar purpura.
On the contrary, intrinsic ageing is affected by genetics and nutrition, also by disease processes such as diabetes, peripheral arterial occlusive disease, autoimmune disorders and medication, including chemotherapy. Intrinsic changes alter the deeper soft tissue planes, decreasing skin elasticity, loss of the subcutaneous tissue (dermal and fat atrophy) and dermal vascularity.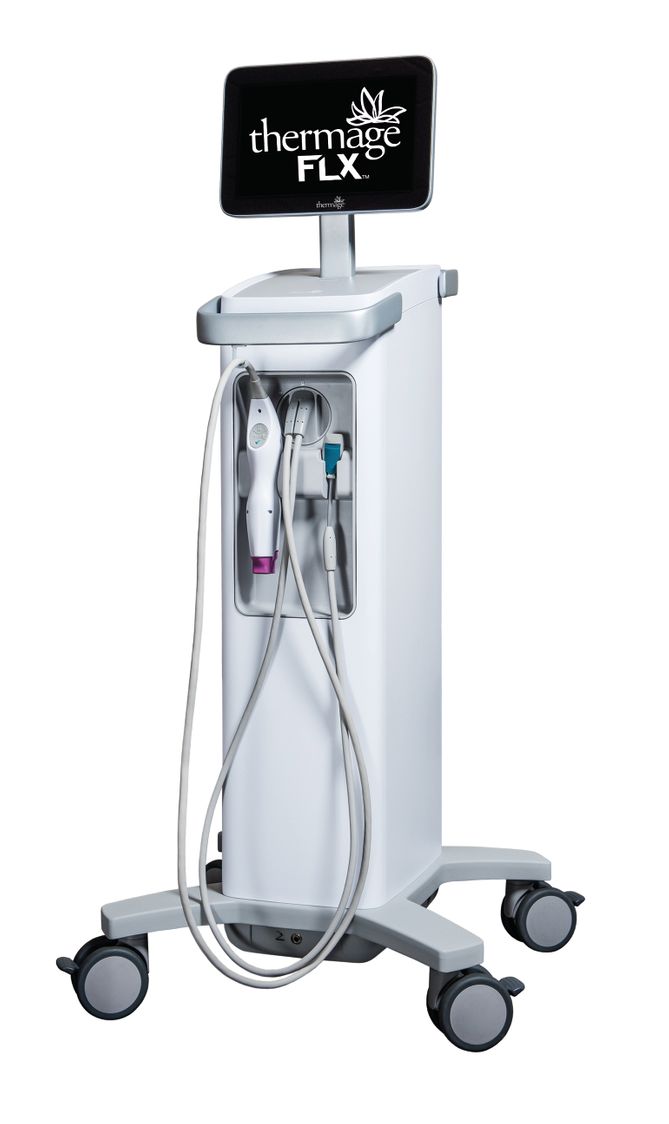 To treat the intrinsic signs of ageing – in particular skin elasticity of the hands – Dr Rakus recommends using non-invasive radiofrequency technology with Thermage FLX®.
"Having seen such success with the original Thermage® technology, we are absolutely delighted to offer the new Thermage FLX® at our clinic," says Dr Rakus. "The Thermage FLX® is a fantastic addition to our portfolio of treatments and offers a fantastic option for those wishing to tighten the skin on their hands this autumn," she adds.
Dr Rakus was the very first user of the original Thermage® technology at her clinic in Knightsbridge and indeed the second biggest Thermage® clinic in the world.
"Thermage FLX® is great as a standalone treatment or as a combination therapy within a treatment plan. Best of all, patients only need one treatment to obtain the full benefits.2 In addition, there is no to little downtime,3 so they can quickly resume their daily routine. Thermage® is the only treatment option that rejuvenates the collagen deep within the skin, with none of the negative aspects of other treatments.
What is Thermage FLX®?
Thermage FLX® is different to anything else available in the marketplace at the moment because it's the only radiofrequency treatment that requires a single treatment as opposed to a full course. Thermage® is non-invasive so there is no surgery or injections. The procedure offers significant clinical improvement with few potential side effects and little downtime,3 so patients can quickly return to their normal routine.
In addition, Thermage® has demonstrated a good safety profile. The treatment can be used on all skin types and tones and can be done all year round. Thermage® uses radiofrequency technology to heat the deeper, collagen-rich layers of the skin to offer a deep rejuvenation of tissues. Best of all, patients require only one treatment2 to obtain the full benefits.
Thermage® works across the entire face, including forehead, eyes, nasolabial folds, jaw line, jowls and the area under the chin, as well as on the arms, buttocks, tummy and thighs. It can be used at different age, in men and women.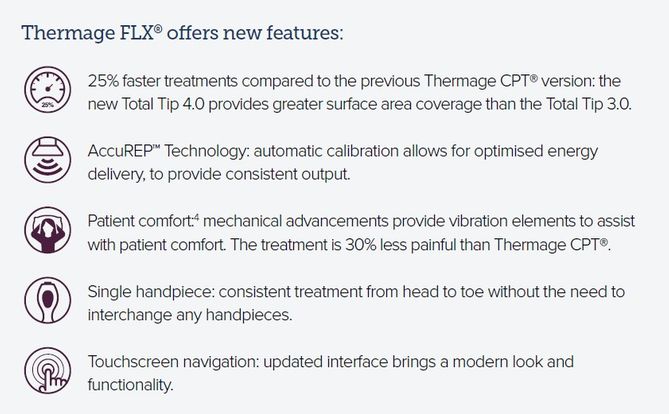 REFERENCES
1. www.drritarakus.co.uk
2. R. Fitzpatrick et al. Multicenter study of noninvasive radiofrequency for periorbital tissue tightening.
Lasers Surg Med. 2003;33(4):232-42.
3. M. Fritz and al. Radiofrequency treatment for middle and lower face. Arch Facial Plast Surg. Nov-Dec 2004;6(6):370-3.
4. Solta Medical, 2009. Report on Gazelle Clinical Study 09-100-GA-T 'Validation of the Thermage 3.0 cm2 STC and DC Frame Tips, Comfort Software and Vibration Handpiece on the Face and Thighs' (#09-019ER). Bothell.